The article about Litvaks (Belarusian and Lithuanian Jewish ethnos) by Saul Issroff. The article has appeared originally in Shemot, Vol. 3, No 3.

LitvagSIG - a site about litvaks and for litvaks. Unfortunately, folks over there have chosen to believe that modern Lithuania is the same state as the Grand Duchy of Lithuania (the state in which litvaks were formed as an ethnical entity). And yet in 1940, when Vil'na was given from Belarusian Soviet Socialist Republic to Lithuanian Soviet Socialist Republic by Stalin, there were around 5% of Vilna citizen, who spoke Lithuanian. Even later, when USSR had fallen apart, Vilna (Vilnius) citizen were considering options of joining Belarus, joining Poland, standing as an independent state and different degrees of autonomy in the Lithuania.

Mayne Zikhroynes (Remembrances) by Yekheskl Kotik. Translated by Lucas Bruyn. Read here about life of Litvaks in Belarus from one of the first Yiddish writers. Yekheskl (Ezekiel) Kotik (1847-1921), was born in Kamenets-Litovsk, Belarus He is mainly known for his two-volume memoirs "Mayne Zikhroynes" (1913-1914). In the first volume of his memoirs the author describes his childhood in Kamenets; in the second volume his life in Belarus and several cities in Russia proper.

The History of Belarusian Jewry by Alex Friedman, School of History, Belarusian State University, Minsk.

Jews in Belarus by Chaim (Dmitriy) Levit

The Paris School: Jewish artists from Belarus.

The Art School of Iehuda Pen in Vitebsk.

Mark Chagall - Belarusian artist from Vitebsk.
The houses and churches and clothing of the personages
in Chagall's pictures are not just any houses - they are Belarusian ones.

Some notes on Judazantism - a reformation religious movement started in the Grand Duchy of Lithuania.

Federation of Jewish Communities of Belarus - dozens of contact addresses in different regions of Belarus.

Shtetlinks website from Jewishgen genealogical service contains nice descriptions of the history of some of the Belarusian Shtetls - small towns and villages around Belarus with predominantly Jewish population.

Jewish Partisans of Belarus during WWII. History of Bielski Brigade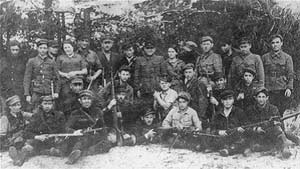 A documentary celebrating the legacy of The Bielski Brothers - "The Bielski Brothers: Jerusalem In The Woods" - premieres in the U.S. on The History Channel on Sunday, November 12 at 4PM EST. Bielski brothers saved more than 1,200 of their fellow Jews from perishing in the Holocaust - as many as Oscar Schindler, - the largest rescue of Jews by Jews in all of World War II

Hassids in Belarus of Early 20th Century. Read the story of Kurenetz shtetle.

Jewish Human Relations Club "The Friends' House" in Vitebsk, Belarus.

Yom Hashoah. The Ivye Project: A Lost World Remembered. A dance/theater
performance remembering and honoring the pre-war life of the shtetl Ivye staged in the forest of Belarus, Eastern Europe.

What do Simon Kuznets, Lev Vygotski, Robert Pinski, Marc Chagall, Simon Peres, Yitzhak Shamir, Menahem Begin, Oskar Milash and Kirk Douglas have in common? They all come from Belarus. Take a look at this site listing Famous Belarusians.

Jews on the walls of Belarusian cities - an article in "Nasha Niva" (in Belarusian) about participation of Jews in military self-defense in Belarus by Henadz' Sahanovich.

Jewish guide and genealogy in Poland
Poland, Krakow, Kazimierz, Auschwitz-Birkenau, Shtetl with a jewish, privat guide. Jewish genealogy and travel in Poland and Galicia.

The Khazaria Info Center - a site about a historical Judaic Khazaria state which existed in the South lands of current Russia and Ukraine. Of possible interest.

Barys Malkin - a page about Belarusian artist maintained by his son.

Szmuel Kapinsky - saving 120 Jews from the Vilna Ghetto during World
War Two.

The history of Jewish communities of Vishnevo, Dolhinov and Valozhyn in historical photographs by Eilat Gordin Levitan.

Simcha - Belarusian-Jewish Youth Theatre