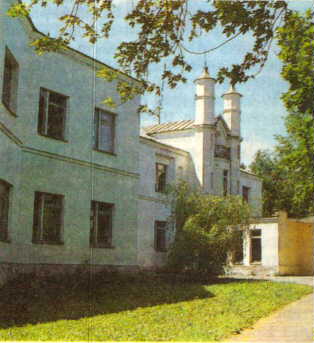 The Smilavichy Palace Ensemble
The Smilavichy Palace Ensemble was build in the second half of XIX century in place of the earlier XVII century Smilavichy Palace. It was build in Romantic Retrospective Style. Originally the Ensemble included two palaces, a number of buildings - winter glass-house garden, archive with documents of Ahinski (Oginski), Maniushka (Moniushko), Van'kovich (Vonkovich) families, a large library, an art collection and a park in English landscaping style. It has survived only partially. Currently the Palace houses an Agricultural College.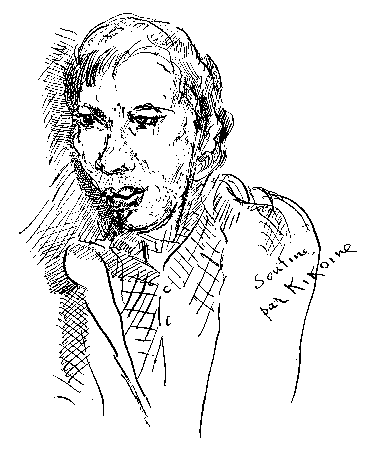 A portret of Chaim Soutine drawn by his Belarusian childhood friend - Michel Kikoine.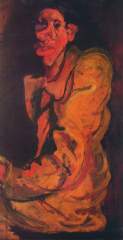 Soutine autoportret
Soutine is often mislabeled as born in Russia or Lithuania by Metropolitan, LACMA or National Gallery of Art in D.C. But his true place of birth is Smilavichy, Belarus.
Smilavichy Timeline

XVI c. Smilavichy is known since XVI century as a village and later "miastechka" (small town) of Minski pavet (district) of the Grand Duche of Lithuania, today Belarus. At different times Smilavichy was owned by the nobility families of Bakshtansky, Sapega, Zavish, Ahinski (Oginski), Maniushka (Moniushko), Vankovich (Von'kovich).

1767. Smilavichy Roman Catholic Cathedral and Monastery of Missionaries is built by an owner of Smilavichy - Marcybiliana Ahinski (Oginski). Considerable funds for monastery were donated by hetman (military title) Mikhail Kazimir Ahinski. It is built accross from the Smilavichy Palace. The Monastery and Church were built in Late Baroque style. The Cathedral had a large collection of Belarusian icons, including the famous icon of St. Vincent painted by Sh. Chahovich.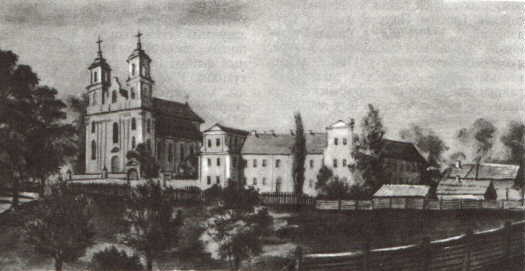 Smilavichy Monastery and Cathedral on the drawing of N. Orda 1870s.

1793. As the Grand Duche of Lithuania is being conquered by Russian Empire Smilavichy becomes part of Russia..

1832. Because it is Roman Catholic Smilavichy monastery is taken off the state funding list by Russian Empire. In 1867 it is converted into Russian Orthodox Church of St. Trinity. But because of poverty of the area and lack of state support the Church and the Monastery weaken financially and are eventually abandoned. The ruins of buildings would still exist untill the mid 1920s.

1897. Population of Smilavichy is 3,100. The town has 2 church schools, 3 churches, a mosque, Judaic praying house, a woollen factory, wine and beer factories, several retail shops.

1893. A renown Belarusian-French painter Chaim Soutine is born in Smilavichy. He was the tenth of eleven children of a poor Jewish clothes mender Zalma (Salomon) and of Sarah Sutin. In 1907 Soutine attended the courses of drawing in Minsk. A Jewish artist named Kruger, Director of the School taught him the elementary aspects of work as an artist. There he met an art student Michel Kikoine from Rechytsa who became his friend. In 1910 Soutine entered after his second attempt Académie des Beaux Arts in Vilna where he attended the courses of the Ecole des Beaux Arts. In 1912 Soutine followed his friends Pinchus Kremègne (from Zhaludok) and Michel Kikoine to Paris. Later he and a number of Jewish artists from Belarus created what is now known as Ecole de Paris, or School of Paris. Soutine died in Paris in 1943.

1899. Another Belarusian-French painter - Sam Zarfin (Faïbich-Schraga Zarfin, dit) was born in Smilavichy in 1899. He died in Rosny-Sous-Bois (France) in 1975.

Early XX c. A 2-year agricultural college is opened in Smilavichy.

1924 - 1931, 1935 - 1938. Smilavichy becomes a center of administrative region.

1938. Smilavichy is transfered to Rudzenski region.

1960 - present. A town in Chervenski administrative region..
Links: