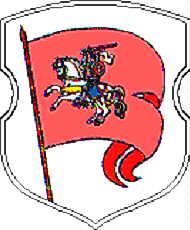 Coat of Arms of the town of Rechytsa
Interestingly this symbol of "Pahonia" or "Chase" is very similar to the "Chase" symbol of the Grand Duche of Lithuania - the former state symbol of the Republic of Belarus and the current state symbol of modern Lithuania.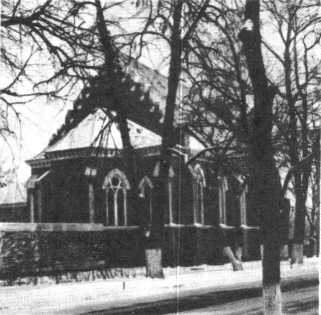 St.Trinity Roman Catholic Cathedral
The Cathedral was rebuilt in 1903. It is now a brick building located in the center of the town biult in Neo-Gothic Style. The Cathedral was inactive over USSR times. It was returned to service in 1980.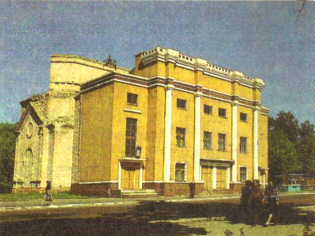 Rechytsa Regional Ethnographic Museum
It seems that Museum is housed in a re-constructed Rechytsa Synagogue (rear part of the building). The museum was founded after WWII in 1952. It has 15,000 items in exposition. The Museum has chapters of pre-Soviet history, Soviet society history, Natural history. An important part of the Museum is a collection of ancient "milagradskaia" culture artifacts, Belarusian icons dated XII-XVII cc. Ethnografic collection houses objects of typical rural living of XIX-early XX cc.
Rechytsa Timeline

1079 A.D. According to one source an Orthodox Christian Church of Resurrection was built in Rechytsa before even first mentioning of Rechytsa itself.


1190s. Rechytsa is mentioned since the late XII century as a settlement in Valyn' Principality.


1213. The First Novgorod Chronicle mentions Rechytsa as a town of Chernihau Principality.


1315-1341. Became a part of the Grand Duche of Lithuania during the ruling of Grand Duke Hedymin.


1392 - 1430. Rechytsa is owned by Vitaut. He had fortified the town and built Rechytsa castle. See panoramic Rechytsa castle view from the old print above.


1511. Zhyhimond the Old gives Rechytsa partial Magdebourg Rights.


1566. Rechytsa Pavet (administrative district) is formed and Rechytsa becomes a district center of the Grand Duche of Lithuania. The District and Civic Courts are opened in Rechytsa, which are ruling on land and property issues. The local town issues are managed by Magistrate (Majorate) - an elected body of selfruling, which gathers taxes and decides on the budget.


1603. John Smith - future governor of an English colony in North America - has left this record about Rechytsa:
"...Rechytsa is situated on a steep right bank of Dnieper river. A castle built in the beginning of XV century by Vitaut stands on the very bank. This castle-fortress is covering an area of 2.5 acres. The castle has 5 polygon-shaped towers covered with pyramid roofs. The castle is connected with town through a drawbridge. Behind the castle there are market square, Magistrate buildings, houses of wealthy townsmen, an inn. The market in Rechytsa at that time was very wealthy."
At that time rye and wheat grain, honey, wax, groceries were brought to the market from the neighboring villages. Iimported goods like Turkish groceries were sailed in from the South along the Dnieper river.


1634. Minsk Vaiavoda (Major) Aliaksandar Slushka, who had formerly served as Rechytsa Major, had founded Dominican Monastery and St. Trinity Roman Catholic Church in Rechytsa. The Monastery had several buildings, including a small library of 270 folios. This monastery was stripped from state funding in 1832 and gradually abandoned. The wooden St. Trinity Church perished in a fire of 1862.


1648 - 1667. Ukrainian Cossacks and Muscovy Wars have brought biggest destruction on Rechytsa throughout its entire history.


1649. Rechytsa Castle is destroyed by the Ukrainian Cossack Army of Zalatarenka. Later its ruins were taken apart by locals for building materials. Only some ruins of the Castle have survived. Cossaks and Muscovy Czar troops were fought off. But ever since Rechytsa begun to weaken.


1829. Uladzimir Sapovich - a known literary critic is born in Rechytsa.


1867. Belarusian historian Mitrofan Dounar-Zapolski is born in Rechytsa.


1892. The most known person coming from Rechytsa is undoubtedly Belarusian-French painter Michel Kikoine. He was born in Rechytsa in 1892. Later, when Kikoine was 15 years old, he met Chaime Soutine at Kruger's School of Drawing in Mensk. One year later, they were both studying art in Vilnia, and in 1911 Kikoine left for Paris. There, he was admitted to l'Ecole Nationale Superieure des Beaux -Arts and moved into La Ruche, where he met the other members of the School of Paris. In 1914, he married Rosa Bunimovich, a girl from Vilnia. They had two children, one of whom, Jankel Jacques, became a painter in his own right and still lives and works in Paris.


1897. Rechytsa population reaches 9,280.


1890s. Rechytsa had 2 Orthodox Christian Churches - Uspenskaia and Mikalaeuskaia (1723), one Roman Catholic Church, one Synagogue and several Judaic praying houses in the late XIX century.


1920s. An underground "Society of Altruists" acted in Rechytsa in 1920-ies, with Auhien Kalubovich being one of the most famous members.


1964. Oil deposits were discovered near Rechytsa in 1964. A giant Rechytsa Oil Processing Plant is constructed near Rechytsa.