Paval Sukhoi
(1895 - 1975)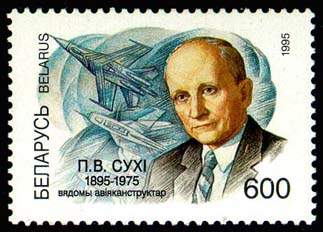 A famous Belarusian airplane designer, presiding for many years Sukhoi Design Bureau in Moscow, Russia. Here's some biographical data from an excellent Aviation.ru site:
P.O.Sukhoi has passed the diploma tests in MVTU under the supervision of A.N.Tupolev and entered the AGOS dept of TsAGI in Mart, 1925.
Sukhoi takes part in development of ANT-3, ANT-4, ANT-6, ANT-9, ANT-10.
Jun-1927 ANT-5/I-4, the first actual "Su", was first flown - first Soviet all metal fighter.
1933. Hi has head the brigade No3 (KOKOS) of TsAGI.
May, 1933. ANT-31/I-14 first flown.
Sukhoi was awarded with the «Red Star» order in 1933.
Sukhoi, as a head of ANT-25 designer team at A.N.Tupolev Design Bureau, was awarded with the «Honor Mark» order in 1936 for the all-metal ANT-25RD flight from Moscow to Udd island.
12-14 July 1937 the ANT-25 the third record flight Moscow, Russia-San Jasinto, CA, USA. running 11,500 km (a crow-flight distance of 10,148 km) in 62 h 17 min was performed. The crew of the ANT-25 included M.Gromov, A.Yumashev and S. DamIin.
Sukhoi was awarded with the «Labour Red Banner» 02-Nov-1938 for DB-2 «Rodina» aircraft.
September, 1939, Sukhoi became the chief designer and the director of experimental production facility.
13-Sep-1940 Sukhoi was assigned the degree of Dr. of technical sciences (equivalent of Western Doctor Habilitat).
22-Jun-1941 13 regiments equipped with Su-2 entered the combat activity.
In 1943 Sukhoi has built Su-6, more powerful attack aircraft than Il-2. The Su-6 was tested but there was no need in just another attack aircraft. But Sukhoi was awarded with the 1-st class State Award.
Su-5 and Su-7 booster-based projects were rejected in 1944 and Su-8 attack aircraft was built in 1944. The war was going to the finish and Su-8 was not entered serial production.
Bomber trainer UTB was designed, built, and entered serial production in 1945.
Jet aircraft Su-9 was tested 13-Nov-1946.
First Russian turbojet Su-11 was tested 28-May-1947.
First Russian aircraft with hermetic cockpit Su-15 was built.
In summer, 1949, Russian first super-sonic aircraft with world first ejectable cockpit was built.
The OKB was disbanded in November, 1949. Sukhoi returns to Tupolev OKB. Hi directs the tests of Tu-14.
Sukhoi OKB was recreated in May, 1953. In September Sukhoi reported two projects of the new swept-wing and triangle-wing supersonic aircraft for speed of 1800+ km/h.
Since 1955 all the aircraft have new designations "S-*" for swept wingers and "T-*" for delta wingers. Su-24 (T-6) is an exception (it was declared as a deep modernization of delta-wing Su-15)...
08-Sep-1955 HSU A.G.Kochetkov began the tests of the new swept-wing Su-7.
Sukhoi was awarded with the «Lenin» order in 1955 and became the General Designer of Aviation Equipment.
09-Jun-1956 Su-7 with AL-7F engine piloted by V.N.Makhalin achieved 2070km/h.
24-Jun-1956 (or 26-Jun?) new Sukhoi's aircraft took part in the Air Parade in Tushino. The name "Sukhoi" first mentioned publically...
Su-7 piloted by HSU N.I.Korovushkin achieved 19000m.
Fall'57 - state tests of Su-7 has began and Sukhoi was awarded with «Gold Star of the Hero of Socialist Labour».
12-Jul-1957 new single-seat side-inlets interceptor first flown (T-1?) by N.Korovushkin and Eh.Elyan.
20-Jun-1958 Su-9 interceptor first flown.
03-Dec-1958 Su-9 entered the state tests.
Sukhoi has been elected to the Supreme Soviet of the USSR.
April, 1959, Su-7B fighter-bomber first flown by HSU E.S.Soloviev.
14-Aug-1959 T-431 piloted by HSU V.S.Ilyushin has set the world record of altitude of 28852m.
12-Nov-1959 Su-11 interceptor first flown.
26-Apr-1960 Su-11 entered the state tests.
28-May-1960 T-405 piloted by B.M.Adrianov has set the world record of speed at 100km round-trip of 2092km/h.
04-Nov-1062 T-431 piloted by HSU V.S.Ilyushin has set the world record of horizontal flight altitude of 21270m.
25-Sep-1962 T-405 piloted by A.Koznov has set the world record of speed at 500km round-trip of 2337km/h.
04-May-1963 Su-15 first flown.
05-Aug-1963 Su-15 entered the state tests.
May, 1965, Russian first variable geometry aircraft design has began.
10-Jul-1965 Sukhoi was awarded with the second «Gold Star of the Hero of Socialist Labour».
02-Aug-1966 Methodical Council of LII under the supervision of M.L.Gallay has confirmed the right of variable-geometry aircraft to fly.
22-Jul-1966 the Sukhoi's OKB was awarded with the «Lenin» order.
July, 1967, few new Sukhoi's aircraft were shown in aviation Parade in Domodedovo. E.K.Kukushev has shown the capability of the new variable-geometry aircraft.
March, 1968, T-8 development began.
July, 1968, Sukhoi was awarded with the Lenin Award.
August, 1970, Su-15TM first flown and entered the state tests.
02-Aug-1972 T-4 «100» bomber first flown.
22-Feb-1975 T-8-1 first flown by V.S.Ilyushin.
10-Jul-1975 Sukhoi was awarded with the second «Lenin» order.
Sukhoi died 15-Sep-1975.
December, 1975. The Presidium of the Academy of Science of USSR has assigned the medal of A.N.Tupolev No1 to P.O.Sukhoi post mortem.
January, 1977. Su-24MK first flown.
March, 1977. The OKB was named after P.O.Sukhoi.
20-May-1977 T-10-1 (Su-27) first flown by V.S.Ilyushin.
May, 1978. First experimental Su-25 entered the state tests.
Su-17M3 and Su-22M entered serial production in 1978.
1979. Su-17M4 first flown.
1979. First serial Su-25 first flown.
26-Aug-1979. Su-27 with AL-31 engines first flown.
April-June, 1980. First two Su-25s tested in Afganistan by V.Soloviev, V.Muzyka, A.Ivanov, and N.Sadovnikov.
December, 1980. Su-25 has passed the state tests.
20-Apr-1981 first prototype of serial Su-27 first flown by V.S.Ilyushin.
May-1981. First squadron of Su-25 deployed to Afganistan.
1981. Su-17M fighter-bomber entered serial production.
1981. First serial Su-27 first flown.
29-Aug-1982. First springboard start of Su-27 piloted by N.Sadovnikov.
Su-22M3 and Su-22UM3 fighter-bombers entered serial production at Gagarin facility.
Jan-1983. M.P.Simonov became the chief designer of the OKB.
Jun-1984 Su-26 trainer/aerobatic aircraft first flown by Eugene Frolov.
01-Sep-1984 Su-27 piloted by Viktor Pugachev has landed with air-finisher.
07-Mar-1985 Su-27UB first flown by N.Sadovnikov.
May-1985 version of Su-27 with foreplanes first flown.
1986..1988 P-42 has set 27 world records. It was flown by V.Pugachev, N.Sadovnikov, E.Frolov, and O.Tsoy.
Aug-1986 Su-25UB first flown.
Aug-1986 Su-26M of the Russian team won the 1-st place of the world championship.
Aug-1987 Su-27K first flown by V.Pugachev.
Aug-1987 Su-28 (Su-25 trainer/aerobatic) first flown.
Mar-1988 Su-27UB with aerial refuelling system has flown by N.Sadovnikov and I.Votintsev in Moscow--Novaya Zemlya--Moscow, and Moscow--Komsomolsk-na-Amure--Moscow.
Jun-1989 Su-27, Su-27UB, Su-25, Su-28, Su-26M first shown in LeBourget, France.
Aug-1989 Su-27 and Su-28 first shown in Tushino on aviation parade.
Aug-1989 Su-2, Su-17M4, Su-24MK, Su-25, Su-26M, Su-27, Su-27UB were shown on central airfield in Moscow.
01-Nov-1989 Su-27 piloted by V.Pugachev and Su-25UTG piloted by I.Votintsev and A.Krutov first landed to an aircraft carrier.
Feb-1990 export version Su-26MKh entered production.
State Unitary Enterprize AVPK Sukhoi created 26-Aug-1997 from OKB named after P.O.Sukhoi, Novosibirsk, Irkutsk, and Komsomolsk-na-Amure Aviation Industrial Unions, and Taganrog Aviation Science and Technical Complex named after Beriev
Links related to Pavel Sukhoi and the planes of Sukhoi Design Bureau:

Sukhoj.com - German Sukhoj page. Great images.


Su-25 "Frogfoot" bomber


Su-27 images at Fly MiG or Sukhoj in Moscow


Su-37 "Terminator" - a derivative of the Su-27 'Flanker', the Su-37 is a super-maneuverable thrust vectoring fighter.


Su-47 "Berkut" - Russian next generation Sukhoi fighter.


Sukhoi T4-MS Russian next generation Sukhoi Strategic Bomber


Sukhoi.ru - Russian portal to Sukhoi fighters
---
Other Relevant Pages of the Virtual Guide to Belarus



Belarusian Castles and Knighthood


Historic Belarusian Battles


Belarusian Statehood


History of Belarus
---

The Belarusian Cities guide is a part of the Virtual Guide to Belarus - a collaborative project of Belarusian scientists abroad. VG brings you the most extensive compilation of the information about Belarus on the Web.
Please send your comments to the authors of VG to Belarus
History | Statehood | Culture | Law and Politics | Cities | Nature and Geography | Travel | Global Resources | Dictionaries | Chernobyl | Genealogy | Industry | New