Paganism
Before 990 A.D. Belarusians - a mix of several Eastern Slavic tribes (mostly Kryvichi and their branches) and several Baltic tribes (Yatviangians, Litts, Latts) - were pagans in their beliefs. As the Slavs have arrived from South to the lands of today's Belarus they have encountered and absorbed the cultures and beliefs of Baltic and other peoples inhabiting the land. There was already a rich Pagan heritage which reveals today through ancient names. Neman (Nioman, Niamunas) - one of the main rivers of the area is bearing the name of Celtic Goddess of War - Neman. Kupala - an ancient Goddess of Water. One of the mysterious peoples completely assimilated by us was Yatviangians. Ancient Belarusians believed in God of Sun - Yaryla, celebrated seasons of nature very much similar to druidic calendar. The cycles of folk songs that were sang at these celebrations still exist. The main pagan festivities are:
Spring Greeting - a plentitude of spring greeting songs -"Vesnavyya pesni" exists, including "Yur'ya". Yur'ia is related to calling Yaryla (Yur'ya), the Sun-God, to bring out the keys and open mothers Nature womb - to let out the grass, and flowers, and animals

Kupalle (Solstice, June 21). Kupalle - is the most loved and cherished pagan holiday in contemporary Belarus. It is a hedonistic summer celebration of fertility in the name of a female God - Kupala. It seems like she is considered a lunar Goddess by some pagan sources, although direct translation of the name is "She Who Bathes". Lately it was renamed into a Christian celebration of a male saint - Ivan Kupala. Kupalle usually involves youth going into the forests and the meadows, wearing flower and grass garlands (see these modern pictures of Belarusian girls in wreaths on Kupala night), dancing in karagods (circles around fires), jumping through fires, competing in strength and a lot's of eroticism. For those interested, you can watch a documentary "Night on Ivan Kupala" to learn more. Also here are some notes about celebration of Kupalle by Ukrainians in Canada. See more on Kupalle in Belarusian Holidays page.

Dzyady(October 31?) - I believe is celebrated twice a year in April and in late October - it's a celebration of dead, bringing bread and drinks to their groves etc. Unlike Halloween it's a light holiday of commemoration of dead. It does not involve any satanic stuff.

Kaliady (a week before Christmas) - pre-Christian celebration of the end of year. Later it was very nicely adopted for Christmas celebration by Orthodox and Catholic churches. Still they have a problem to explain the meaning of spruce (evergreen - eternal life returning) and people dressed as animals and fantastic beasts carrying the sun and the goat's head in their hands :)

For more information on Pagan tradition of Belarus see our page about "Traditional Holidays and Celebrations in Belarus". The page contains also a traditional calendar of Orthodox Christian celebrations.
More on neo-paganism in Eastern Europe:
Neopaganism in Central-Eastern Europe: Belarus, Estonia, Latvia, Lithuania, Poland, Former Prussia, Ukraine

Declaration of the World Congress of Ethnic Religions - Vilnius, Lithuania, June 1998

Back to the Pagan Woods - Increasing numbers are turning their backs on traditional faiths to dance in the forest and roll in the morning dew. By Ruslan Gagua in Pinsk, South Belarus (BRS No. 11, 03-Apr-03)
The Pagan history of Belarus is richly reflected in a multitude of Sacred Stones that were used in the pagan rituals up until the recent times. Many stones were named after Pagan Gods and were the center of the pagan ritual grounds. Read more about it in our page - "Sacred Stones of Belarusian Land".
Belarusian Pagan symbolism has been deeply rooted in traditionally geometrical Belarusian ornaments. Read here about magical symbolism and sacral acts performed with Belarusian traditional embroidered towels - Ruchniks.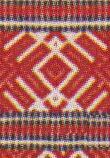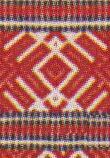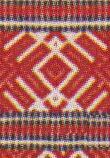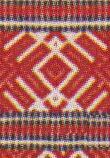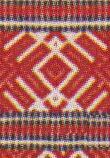 ---

Eastern Orthodox Christianity
Around 990 A.D. the Orthodox Christianity came from Greece to our land. It has absorbed lots of formerly pagan traditions and used them for it's own purpose. In the first few centuries Kiev, Polacak and Novgorod were competing in their claims to unite eastern Slavs in religious belief. Belarusians have developed their own approach to Orthodoxy with more interest in human side of the life. Several religious figures in Belarus (St. Efrasinnia of Polacak, Simeon Polacki) were very influential and even canonized. To those unfamiliar with Orthodox religion it we can say that it is generally more tolerant to other religions than Roman Catholic religion. The human side is excused and treated with respect, rather than tortured :) Such the priests (except high priests) are required to marry. Although depiction of saints is allowed it is thoroughly restricted to certain canonical types. Belarus has developed it's own Belarusian school of icon with several renown masterpieces. The Orthodox churches are usually very decorated inside. The service involves lot's of sacral magic, which is considered almost equally important Christ heritage as Bible. The idea of spiritual unity of all Orthodox believers mirrored in the compassion and cooperation in everyday life is one of the most cherished. Nowadays (as it was always) Orthodox Christianity is a leading religion of Belarusians (> 50%). You can read the file written by Belarusian Autocephalous Orthodox Church (BAOC) edited for the web by Dzmitry Zelenka for more information. The first in Belarus independent of Russian Mitropolit BAOC Church was built near Hrodna in 2002. Lukashenka regime authorities have literally bulldozed the church down because it threatened the lure some believers from the KGB infested Russian Orthodox Church, with which Mr. Lukashenka affiliates himself. "The Furor of Slavs" is really into uniting Belarus with Russia - body and soul. And so he got spooked by a separatist Belarusian Autocephalous Orthodox Church.

Links:
Around XIVc. Catholic orders moved into Belarus (Grand Duchy of Lithuania,GDL, at that time). Nowadays the second baggiest religion is Catholic religion (~30%). Franciscans, Bernardins, Jesuits etc. To big extent it was promoted by the Grand Duke who traded Orthodox belief to Catholic fate to get a throne of Polish king. For the next 600 years it was a struggle between the Catholic church and Orthodox church (read Poland and Russia) for possession of the souls and hearts of Belarusians.
Links:
Unia (Greek Catholic) Church
As a compromise solution to unify both Catholic and Orthodox Christians in Belarus Ipaci Pocei - a Belarusian religious figure - has suggested the Union - Unia Church. It has retained most of rich and glamorous Orthodox rituals and decor but was subdued to Pope in Rome. This church was sought to unify Belarusians against spiritual invasion from Poland and Muscovy. Many Belarusians like Mileci Smatrycki, Leu Sapega, Grand Duke Mikalaj Krystof Radzivil were seeking Unia as the way for Belarus to establish its independent church which at that times meant a lot for sovereignty of the nation. Both Catholic and Orthodox churches have forgotten their real purpose and became inexcusably involved into political games of Poland and Muscovy repulsing Belarusian intellectuals into something else. And as a comment, I must say that nothing has really changed since these ancient times. Today's Orthodox priests are the necessary attribute of signings the dirty political deals between Russia and Belarus. And most of the Catholic church is still involved in the polonization of Belarus. It has become so ridiculous that you can see monks as members of Belarusian parliament. In XVI c. all this has started Reformation in Belarus. Unia church still exists, mostly in Ukraine and Belarus, but also in US, Australia, Canada and other places, where prosecuted uniats were emigrating. You can visit a page of St. Joseph Greek Catholic (Unia) Church in Mensk, Belarus

In XV-XVII centuries Belarus (GDL) was undergoing a unique Renaissance époque with the flourishing arts, sciences, crafts, medicine. It had very strong connections with a European thought at the time. Our philosophers were having correspondence with Martin Luther and other leading intellectuals on the ethical and humanistic aspects of Reformation. Calvinism was becoming increasingly popular at that time. Most of aristocracy and simple folks were attracted by schools of Calvinist communities and general progressive humanistic mood. The most influential trends of reformation in Belarus included anti-trinitarians, socians and many others. The major figures of Belarusian Renaissance were Dr. Francisk Skaryna, Symon Budny, Vasil' Cyapinski. Later protestant communities were severely suppressed by Catholic Counter-Reformation, and to some extent by Russian Orthodox Church. This gave birth to a multitude of the polemic poetical works, and brought to life Old-Belarusian Polemic Poetry.
Other
The religious climate in Belarus was pretty tolerant towards non-Christian religions. Islam and Judaism were existing for more than 500 years in our land in small communities without any major problems. Actually the first Belarusian common spoken language texts (they are now in Vil'na University Library) were written phonetically using Arabian letters by the mullah's - Muslim priests.
Nowadays the religious life in Belarus is very active after 70 years of atheism in USSR. Many young people are finding their spiritual path in Orthodoxy, Catholic, Protestant belief. There many churches restored and new are built. Judaism and Islam still have their roots in Belarus. Some people venture into Krishnaism, Buddhism, Neo-Paganism . Significant part of population are simply atheists. Atheism has a long tradition in Belarus. Another part of young people are attracted to religion by curiosity or fashion. But nevertheless Belarus is now experiencing a clear religious growth.
Today
The 2002 controversy is a harsh pro-Russian Orthodox Christian law "On freedom of conscience and religious organizations" that was suggested by Lukashenka Regime. The law would significantly diminish rights of other religions and perishes. The scandalous religion law didn't passed upper chamber of Belarusian Parliament.
The first in Belarus independent of Russian Mitropolit BAOC Church was built near Hrodna in 2002. Lukashenka regime authorities have literally bulldozed the church down because it threatened the lure some believers from the KGB infested Russian Orthodox Church, with which Mr. Lukashenka affiliates himself.
Protestants prosecutions are continued in Belarus today. Recently children of protestants were not allowed to go to camp in a village together. Oct. 21, 2006. About 1,000 parishioners of an evangelical Protestant church rallied Saturday to protest its possible closure by Belarus authorities, The Associated Press news agency reports.

The New Life church bought a disused building and a patch of surrounding land three years ago and made improvements, but the authorities last year ordered the church to vacate the building and sell it to the government at a nominal price.

"We are facing a tougher persecution than even during the Communist times," said one protester, Yelena Kuchinskaya. She held a banner saying "We are Praying for Belarus."
Something must be going wrong with religion in Belarusian state since Protestants had hunger strike in November 2006 and Catholics have hunger strike in December 2006.