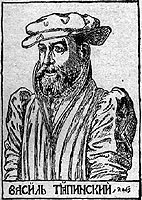 Vasil' Cyapinski (1530 - 1604)
---
Vasil' Cyapinski belongs to generations of scientists and philosophers of Belarusian Renaissance of XVI c. He was a first translator and publisher of the "New Testament" in Belarusian language. His "New Testament" was printed around 1570 in a printing house that he organized near Polacak.
---
Vasil' Cyapinski was born around 1530 (died in 1604) in aristocratic (slyahtich) family which owned a small court of Cyapin near Lepel', Polacak region. He had a double family name of Cyapinski-Amel'yanavich and was married on Duchess Zhazhemskaya. At different times he lived and owned land in Polacak, Lida, Vil'na and Minsk regions. Despite all this he was poor. He had soled most of his property to build his own printing house.
The evolution of ideas of Vasil' Cyapinski was somewhat similar to the path of Symon Budny. He had joined Calvinist Reformation, then he was attracted to socian (aryan) ideas. Unlike extreme socians (Martyn Chehovich and his followers) Cyapinski considered that christian religion still allows to participate in war, own land and servants.
Vasil' Cyapinski was very fond of native Belarusian language. He valued the history and traditions of Belarusian (creeve) people. Cyapinski called the contemporary intellectuals and especially priests to teach Belarusian people of their own values, educate them of their own history. He speaks against the dead church-Slavic language and calls the priests to use the living Belarusian language. Cyapinski puts as a basis of his work his love to homeland and native language.
The letters of Cyrillic editions of the Cyapinski printing house are identical to those earlier books printed by Budny in Niasvizh. This shows that Cyapinski has acquired the printing tools from Niasvizh and was communicating with Niasvizh literary circles.
In his introduction to "New Testament" printed in Belarusian Cyapinski talks about his concern with the general low cultural state of Belarusians. He sees the solution in a new religion to which he belongs, religion that is opened to learning, religion that talks the same language as simple Belarusians and thus that could be understood. Cyapinski calls his "Slavic brothers" to promote education, build schools, use native language.
Cyapinski went further as a leader of the Belarusian Renaissance than his predecessors Francysk Skaryna and Symon Budny. He had widely advertised the idea of the importance of Belarusian Language and schools with education in Belarusian. His thoughts and ideas sound extremely modern today when Belarusian language and culture are threatened again.
---
References used in this file:
"Gistoryya belaruskaj (kryuskaj) knigi. Sproba payasnitel'naj knigopisi ad kanca X da pachatku XIX stagoddzya" [The History of Belarusian (Creeve) Book. An Attempt of Explanational Description From the End of X to the Beginning of XIX Century], Ed. V. Lastouski, Published by the Belarusian Center in Lithuania, Publishing House of Sakalouski and Lan, Kauno 1926.
UCB Library PG 2834.2 A12H51926 Main
"V.N. Tyapinskij, perevodchik Evangeliya na belorusskoe narechie"
by Dounar-Zapolsski, in "Izsledovaniya i Stat'i" Vol. 1, Kiev, 1909.
---

This file is a part of the Virtual Guide to Belarus - a collaborative project of Belarusian scientists and professionals abroad. VG brings you the most extensive compilation of the information about Belarus on the Web.
Please send your comments to the authors of VG to Belarus

History | Statehood | Culture | Law and Politics | Cities | Nature and Geography | Travel | Global Resources | Dictionaries | Chernobyl | Genealogy | Industry | New
©1994-04 VG to Belarus
Disclaimer