In XVI century the fortified castles have started to loose their protective qualities to the new bigger and more powerful siege cannons. Useless for defence the castles built by nobility were replaced by luxurious palaces and estates with vast parks and intricate landscaping. The difference between a palace and estate is very elusive. The "Architecture of Belarus" encyclopedia gives this definition:

Estate house ("Syadzibny dom" in Belarusian) in Landlord's Estate (Bel.: "Panskaia Syadziba") is a residential house that differes from Palace in smaller size, smaller number of living rooms and simpler decore of facades and interiers. Estate house was a center on the architectural plan of the estate ensemble of buildings. The typical building material is wood. In XI-XVII centuries a technique of "Prussian Plaster" was frequently used. In XVIII-XIX centuries more plastered buildings were raised. Majority of Estate houses existed in rural areas, less frequently they were built in small towns (Bel.: "Miastechka") and cities. In XVI-XVII cc many Estate houses were built as expanded to 2-3 chamber villager houses. The 2-chamber Estate house would often have an expansion of bedroom - "Alkezh" or other bedroom. The development of architectural plan was occuring through funcional differentiation of the rooms. Some of the rooms were located in separate guest houses - "Fligel". In XVIII century the Estate houses were mostly built in Baroque style. Those buildings were traditionally covered with comlex roofs - broken, multi-tier, mansarde. The architectural plan was typically that of anfilade type (connecting row of rooms) with main stairway and living rooms (salon) in the middle. The main facade was often decorated by "Kartush" and other decorative elements. "Kartush"(Cartuche in French, Cortoccio in Italian) - is a decorated frame with a coat of arms in it. The Estate houses of the late XIX c. and early XX c. were built in Neo-Gothic, Neo-Classycism, Neo-Roman, Modern and Neo-Baroque styles.

Belarusian palaces were built by the most prosperous landlords and most powerful nobility, who could afford to hire Italian or French architects to govern their construction. On the other hand, Estate houses were built by smaller scale landlords - Belarusian middle class of that time - "Shlyahta". The Estate houses were raised by local architects and thus carry more of the national character, giving the insight into the culture and traditions of the Shlyahta layer of the Belarusian society of XVI-XX centuries. Because of this higher cultural and learning value we will exclusively focus in this page on Belarusian Estates and Estate houses.

The whole architectural plan of Belarusian estate would encompass entire life style of Shlyahta. Typically thsi would be an owner of one or several villages with peasants. The estate would often have a private chappel - "Kaplitsa". A small family graveyard by the chappel. It would have a horse stables, dog stables, where hunting dogs were held. Hunting was a favorite sport for nobility. There will be household buildings, mills, smokehouses and barns to store the crops. Typically a village or two vill be in the neighborhood on the lands of landlord. Peasants would normally have to give up parts of their crops to a land owner. During Russian Empire days (XVIII-XIX cc) the serfdom was widely spread in Russia and in part in Belarus. Later in XIXc. the "modern" estates would often have some kind of small factory to process local goods - vine plant, tobacco factory, sawmill, even a port, to ship goods onto the markets.

Some estates had libraries, even separate library buildings. The servants would have their own room, often crammed into one room all together. There was a landlord's barn, where crops, gathered by villagers, were stored. Different ways of taxing peasants for using land existed. The yard of the estate would be typically surrounded by buildings, with a central entrance alley hitting the main entrance of the Estate house. There was a great landscaping developed around Estates. In case of Palaces gardeners were often imported from Western Europe - France, Italy. The typical Estate house would be located on a hill above a river turn, or near the lake. Often artificial ponds would be made surrounded by alleys, parks and meadows.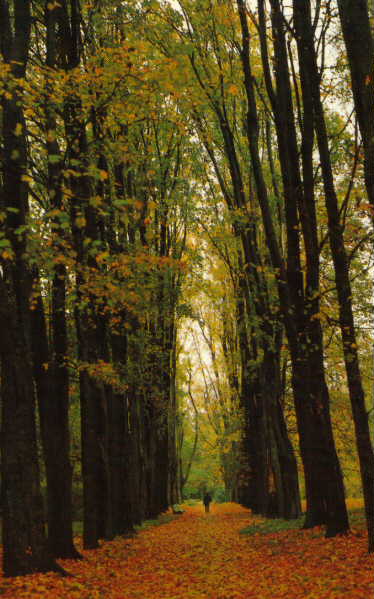 The entertainment would be often done by peasants who were educated as musicians, actors or singers. Gypsies were also frequently invited into Estate houses to sing and dance. Hunting dogs, horses and guns were the favorite things of shlyahta.An exquisite cuisine was developed by chefs of Belarusian estates. The fresh oysters delivered from France were not a rarity. This entire sphere of Shliahta life deserves far more thorough exploration. Meanwhile, we would like to present this collection of the images of Belarusian Estates and Estate houses with some of their history. We hope that browsing through these pages would allow you to immerse into the historical surroundings of the XVI-XX cc Belarusian nobility - Shlyahta.

Below is shown a plan of a typical estate of a well-to-do Belarusian Shlyahta family - Ihnacichy estate, owned at first by Radzivils and later by Kalechinski and El'ski.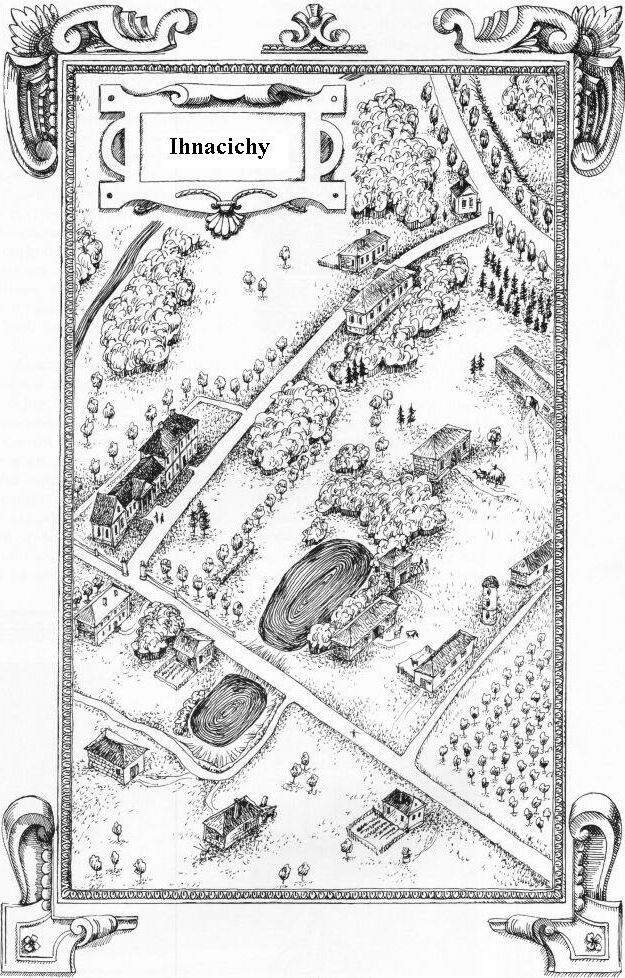 ---

The Relevant Pages of the Virtual Guide to Belarus

Belarusian Castles and Knighthood
Clickable Historical Map of Belarus
Belarusian Heritage
Belarusian Architecture
The Outer World

Belarusian real estate company
Belarusian construction company "Mara"

References:

Many of our page are heavily based on the superb review of the history of Belarusian architecture in "Architecture of Belarus. Encyclopedia". This book is a great source for anyone, who is interested in Belarusian architecture and culture, for that matter. It has 1200 articles covering the period of XII-XX cc.

"Arhitektura Belarusi. Encyklapedychny davednik" ("Architecture of Belarus. Encyclopedia") - ed.: A.A. Voinau and others, Minsk, Publishing house "Belaruskaia Encyklapedyia" named after Piatrus' Brouka, 1993. ISBN 5-85700-078-5.

There is a nice recent book series: "Ancient Estates of Belarus". I have only seen so far "Ancient Estates of Minsk Land" ("Starinnye Usad'by Minskogo Kraia") Unfortunately it is published in Russian and looses a lot of local Belarusian flavor and authenticity, since all the terms are translated into Russian. But still it is pretty thorough in depiction of estate life of mostly XIX c. There are also abstracts in English:

Fedoruk A.T. "Ancient Estates of Minsk Land" ("Starinnye Usad'by Minskogo Kraia") , Minsk 2000, Polifact publishing house. ISBN 985-6107-24-5
---
The Belarusian Historical Estates guide is a part of the Virtual Guide to Belarus Please send your comments to the authors of VG to Belarus

History | Statehood | Culture | Law and Politics | Cities | Nature and Geography | Travel | Global Resources | Dictionaries | Chernobyl | Genealogy | Industry | New