Marshall Yazep Pilsudski (Józef Klemens Pilsudski, Josef Pilsudski)
(Dec. 5 1867- 12th May 1935)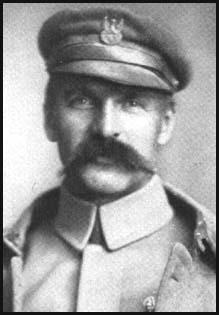 Yazep Pilsudski was born on December 5th 1867 in a family of Litwin (Belarusian) nobility at Zulow some 60 kilometers to the North of Vilna (Wilno, Vilnius) just three years after the end of the failed 1863 Kalinouski uprising against the Russians. It was the sad aftermath of the uprising which was to shape his early years. His father Jozef Wincenty Pilsudski came from an old and well known family in the region. His mother, Maria Bilevich came from an equally well known and quite wealthy family bring a dowry of several estates.
In 1886 a "Terrorist Faction of National Will" laid plans to force the Tsarist regime to introduce reform by instigating a wave of terrorist actions to be carried out by small groups of revolutionaries acting independently. Young Pilsudski was one of them. On March 13th 1887 five of the conspirators were arrested by chance. As the conspiracy unravelled 15 arrests were made including the two Pilsudski brothers. They were imprisoned in the Peter and Paul Fortress in St.Petersburg. Lenin's brother was sentenced to death, Bronislaw Pilsudski was sentenced to 15 years hard labour and Jozef eventually faced 5 years in Siberia.
On April 20th 1892 he started his journey home arriving back in Vilna on July 1st where he was inevitably increasingly drawn into Socialist circles in the city. The Polish Socialist Party (Polska Partia Socjalistyczna – PPS) was formed in Warsaw in 1893. Pilsudski joined the "Lithuanian Section" of PPS and began to write for Przedswit (Pre-Dawn) which was actually issued in London.
When the WWI has broke out Pilsudski was fighting on the side of Austrians in Polish troops. He was then taken a prisoner by Russians, escaped, fought for Germans. When Russian and German socialist revolutions broke out Pilsudski has arrived to Warsaw and used the moment of weakness of Poland's usual enemies to gain freedom for Poland.
On 11th November 1918 the Regency Council appointed Pilsudski Commander-in-Chief of Polish forces and asked him to form a Government. On 13th November the Regency Council was dissolved and handed over to Pilsudski its "duties and responsibility toward the Polish people". Pilsudski was now the dictator of Poland and would remain so for 98 days until 20th February 1919 when he handed power to the Seym.
On April 19th 1919 Polish Cavalry entered Vilna amidst heavy fighting with the Bolsheviks. On April 21st Pilsudski entered the city on horseback. For Pilsudski this was one of the great highlights of his life as his beloved Vilna was liberated of more than 100 years of Russian occupation. Pilsudski pledged that, in the Jagiellonian tradition, there should be a free election and local Lithuanian autonomy. On October 22-23, 1919, after Polish Army has kicked Bolsheviks out of Minsk, Yazep Pilsudski issued declaration calling for formation of a Belarusian National Army. Pilsudski signed in 1921 Riga Treaty with Bolshevick Russia splitting Belarus into two parts - Polish and Soviet. In October of the same year his Marshall Zheligovskuy took Vilna and surrounding lands and proclaimed it "Middle Lithuania", in the opposition to Kouna interpretation of "Lithuania".
In 1926 democratic government of Poland was suspended by a military coup d'stat that made Jozef Pilsudzki virtual dictator again. He had started a "sanation" regime.
In December 1927 Pilsudski attended a session of the Council of the League of Nations in order to try and resolve Polish-Lithuanian differences. Pilsudski famously demanded of the Lithuanian Leader Woldemaras "Is it war or peace?" receiving the reply "peace!" In reality, despite his best endeavors, normal relations were only re-established between the two countries in the March of 1937 - two years after his death. His idea of "Litwo" never befitted Samogytians.
Pilsudski died on 12th May 1935. The Polish Government declared a six-week period of mourning. He was eventually burried in Wawel, with Kasciushka and Batory.
President of Poland Moscicki declared on his funeral day:
"The spirits of the kings are gaining a worthy comrade in their eternal sleep. No crown adorns his temple, his hand holds no scepter. But he was king of our hearts and ruler of our will. Through half a century of his life's toil, he took into his possession heart after heart, soul after soul, until he drew the whole of Poland under the purple of his royal spirit. With the boldness of his thought, the courage of his purpose, the power of his deeds, he freed enslaved hands of their handcuffs, molded a sword for the weaponless, carved boundaries with it and wreathed the flags of our regiments in glory… He gave Poland freedom, boundaries, power and respect…"
Virtual Library of Polish Culture on Josef Pilsudski. (in Polish)
Josef Pilsudski Institute of America
Pilsudski page in UK
---
Other Relevant Pages of the Virtual Guide to Belarus



Belarusian Castles and Knighthood


Historic Belarusian Battles


Belarusian Statehood


History of Belarus
---

The Belarusian Cities guide is a part of the Virtual Guide to Belarus - a collaborative project of Belarusian scientists abroad. VG brings you the most extensive compilation of the information about Belarus on the Web.
Please send your comments to the authors of VG to Belarus
History | Statehood | Culture | Law and Politics | Cities | Nature and Geography | Travel | Global Resources | Dictionaries | Chernobyl | Genealogy | Industry | New