Vitaut the Great (Vitautas, Witold, Vitovt)
(1350-1430)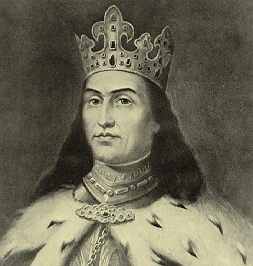 the Great Prince of the Grand Duchy of Lithuania he had stopped the invasion to Europe of Timur (Tamerlan) from Asia heading a big Army of Belarusians, Lithuanians and knights from all of Christian Europe in 1399 in the battle at Vorskla-river (in modern Ukraine). Later together with Polish King Yahajla (his brother) he had led the united army of 100, 000 warriors, which included representatives of all the East European peoples, to the victory in the famous Battle of Grunwald. The battle which took place on July, 15, 1410, near Grunwald (Prussia at the time, now in Northern Poland) was hard and severe and the crusaders were utterly defeated by the united troops. After this battle, the Great Lithuanian Principality - Belarusian state at the time - expanded its borders to the Baltic Sea and became the most powerful state in Eastern Europe. It occupied large territories from the Baltic to the Black Sea, having many neighboring states as vassals. The Moscow prince Wassily was Vitaut's grandson, and the princes of Tver and Ryazan called him their master. In addition, the Czechs wanted to grant him their crown; in response to which Vitaut sent his nephew to be a regent in Prague. Vitaut's reign and several decades after it are considered to be the period of the highest flourishing of Belarus and Belarusian culture. The Belarusian language was the state language of the Great Lithuanian Principality; all documents, laws, charts, and other official documents were issued in Old Belarusian; it was used also as an official language in some neighboring states like Moldavia. The statehood in Lithuania was also one of the most liberal in Eastern Europe. The Principality had a parliament consisting of two chambers - Soym and Rada, which replaced the vecha. Vitaut has established Belarusian National symbol "Pahonia" as the symbol of the Grand Duche of Lithuania.
Links to Vitaut the Great:

Notes from the History of Belarus by Jauhen Reshatau


Belarusian state symbol "Pahonia" - "Chase"


Culture.PL: Grunwald Days


Songs About Litwins from the Eldest Times to the year of 1434 in Belarusian
---
Other Relevant Pages of the Virtual Guide to Belarus



Belarusian Castles and Knighthood


Historic Belarusian Battles


Belarusian Statehood


History of Belarus
---

The Belarusian Cities guide is a part of the Virtual Guide to Belarus - a collaborative project of Belarusian scientists abroad. VG brings you the most extensive compilation of the information about Belarus on the Web.
Please send your comments to the authors of VG to Belarus
History | Statehood | Culture | Law and Politics | Cities | Nature and Geography | Travel | Global Resources | Dictionaries | Chernobyl | Genealogy | Industry | New