Scyapan Batory (Stefan Batory)
(1533-1586)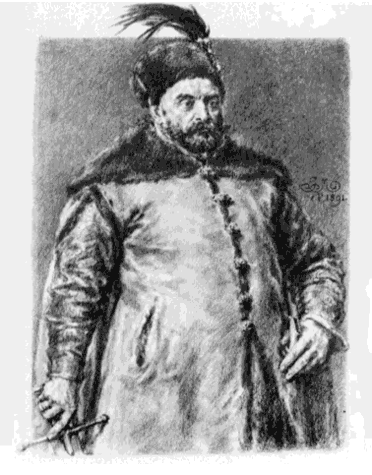 Duke of Transylvania since 1571, became king of Poland in 1576 when he married princess Anna Jagiellonka. Scyapan Batory was always conducting politics against the enemies of Transylvania - Austro-Hungarian Habsburgs and Turkey. Batory has led wars against Muscovy of Ivan IV in 1578-1582, which had 3 successful battles: Polacak (1579), Velikie Luki (1580) and Pskov (1581). Scyapan Batory stayed in Hrodna Castle and has built a giant Farny Cathedral there with a place near altar where he wanted to be buried. But he died in Hrodna before the cathedral was completed and was buried in Krakau (Krakow).
Batory has performed many reforms in the army. He had instituted electable infantry (1 soldier was supported by 20 peasants in King's serfdom ), he had established the institution of Cossacks (including famous Cossacks of Zaporojie), who were recognizing power of Commonwealth of Poland and Lithuania (Rzeczypospolita) and were obliged to go to battles with in it's army. He had divided cavalry into three functions: heavy-armed hussars, Cossacks and light cavalry.
Links related to Scyapan Batory:

"Wiem" Encyclopedia (in Polish): Stefan Batory


Stefan Batory from 1up_info
---
Other Relevant Pages of the Virtual Guide to Belarus



Belarusian Castles and Knighthood


Historic Belarusian Battles


Belarusian Statehood


History of Belarus
---

The Belarusian Cities guide is a part of the Virtual Guide to Belarus - a collaborative project of Belarusian scientists abroad. VG brings you the most extensive compilation of the information about Belarus on the Web.
Please send your comments to the authors of VG to Belarus
History | Statehood | Culture | Law and Politics | Cities | Nature and Geography | Travel | Global Resources | Dictionaries | Chernobyl | Genealogy | Industry | New