Mikalaj Radzivil Chorny (The Black)
(1515-XXXX)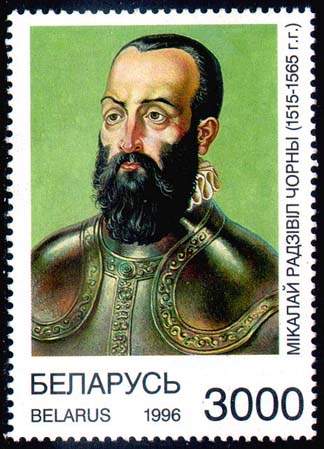 Mikalaj Radzivil Chorny was born in February 4, 1515. The Radzivills by that time were already quite influential in the state, and it is thanks to Mikalaj Chorny that the Radzivills joined the European political elite, became one of the richest magnate clan of the GDL.
In 1558 the Moscow tsar Ivan IV (Ivan the Terrible) assaulted the Livonian Order of crusaders, the Lithuanian neighbors. The Great Prince Zhyhimont August decided to help the crusaders on the condition of joining it to Lithuania. The 20-year Livonian war started. At first Ivan's army of 280,000 warriors occupied eastern Belarus devastating it all through; it took Polacak in 1563. But in 1564 general Mikalai Radzivill defeated the Moscow army; and other Lithuanian generals also won victories in 1568. Ivan the Terrible had to sign the truce, according to which, however, Polacak and eastern Livonia remained under Moscow's power
Radzivill Chorny headed the delegation of the GDL during negotiations of 1563-1564 concerning the union with the Polish kingdom defending the preservation of relatively large independence for the GDL. The position of Mikalaj Radzivill influenced to a large extent further political relations between the GDL and Poland in the framework of the federal state - Rzecz Paspalita.
Mikalaj Radzivill can be rightfully named one of the most prominent figure of the Renaissance epoch of the GDL. It is pity that he did not live long -- Mikalaj Radzivill died in May 29, 1565.
Links to Mikalaj Radzivil Chorny:

Brest-on-line page on Mikalaj Radzivil


"Famous Names of Fatherland" ("Slavutyia Imiony Bac'kaushchyny" - collection of stories. Issue 1. Composed by U. Hilep and others, Chief Ed. A. Hryckevich - Minsk, BFK, 200. ISBN 985-6523-07-0
---
Other Relevant Pages of the Virtual Guide to Belarus



Belarusian Castles and Knighthood


Historic Belarusian Battles


Belarusian Statehood


History of Belarus
---

The Belarusian Cities guide is a part of the Virtual Guide to Belarus - a collaborative project of Belarusian scientists abroad. VG brings you the most extensive compilation of the information about Belarus on the Web.
Please send your comments to the authors of VG to Belarus
History | Statehood | Culture | Law and Politics | Cities | Nature and Geography | Travel | Global Resources | Dictionaries | Chernobyl | Genealogy | Industry | New