Marshall Georgy Konstantnovich Zhukov
(12/1/1896-6/18/1974)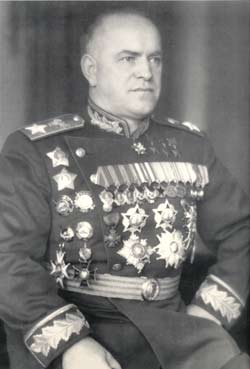 Georgy Konstantinovich Zhukov was born into a peasant family in Strelkovka, Kaluga Province near Moscow, Russia. He was then apprenticed to work in Moscow. In 1915 Zhukov was conscripted into the army of the Russian Empire, where he served in a dragoon regiment as a private. During WWI Zhukov received an order of the St George Cross twice. He was promoted to the rank of non-commissioned officer for his bravery in battle.
After Russian Revolution in 1917 Zhukov joined the Bolshevik Party where his background of poverty became an asset. After recovering from typhus he fought in the Russian Civil War (1918 - 1920). Oddly enough he was fighting against Pilsudski, who was adamant anti-communist.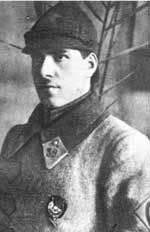 Georgy Konstaninovich Zhukov has served as a military commander in Byelorussian Soviet Socialist Republic for 17 years (1922-1939). He is shown in the photo left as commander of a regiment (1923). It is in Belarus he had formed and matured as high military commander. Zhukov respected Belarusian culture, spoke fluent Belarusian language and was known to command troops in Belarusian. His respect to different ethnic cultures was also exhibited in his position against anti-Semitism in Soviet Army (also here). Zhukov was commander of a regiment, and in 1930 of a brigade. In early 30-ies Zhukov commanded 4th Leningrad's Red-Banner cavalry division named after Voroshilov stationed in Belarusian Military Region (BVO). He was a keen proponent of the new theory of armored warfare and w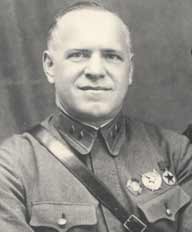 as noted for his detailed planning, tough discipline and strictness. Unlike Marshall Tuhachevsky and many other military commanders of Red Army, Zhukov survived Joseph Stalin purges of 1937. The photo of Zhukov on the right is dated 1938. In 1939 he was transferred to Moscow and then immediately to Far East where he commanded a group of Soviet troops that defeated Japanese invasion at Halhin-Gol.
On June 22 1941 Belarus and USSR was attacked by Hitler Germany. Zhukov becomes a member of General Headquarters of Red on June 26, 1941. He delivers a first victory over Germans in the battle of El'nia as a head of Reserve Front in 1941. Zhukov becomes a high commander of Western Front in October 1941 - August 1942 - the front on the line of main German attack. He was in charge of the defense of Leningrad and Moscow. In August 1942 he becomes 1st Vice-Commissar of the People's Commissariat of Defense. Zhukov has coordinated all the main decisive battles with Nazi Germans in Soviet Union: breakthrough of Leningrad blockade, Battle of Moscow in 1942, the biggest in human history Kursk Arch tank battle, he was in command of the main battle of thje WWII - Battle of Stalingrad - which has truly decided an outcome of the war, Battle for Dnieper. It is Zhukov, who commanded the 1st and 2nd Byelorussian Fronts liberating Belarus from Nazi in the summer of 1944 (Operation "Bagration"). Later Zhukov was in charge of Wisla-Oder strategic offensive initiative and capturing Berlin. Marshall Georgy Konstantinovich Zhukov was in charge of the official capitulation of Germany ceremony on May 8, 1945. Marshall Zhukov on a white horse was was in charge of the WWII Victory Military Parade in Moscow commanded burning captured Nazi Military Flags on the Red Square (see photo below).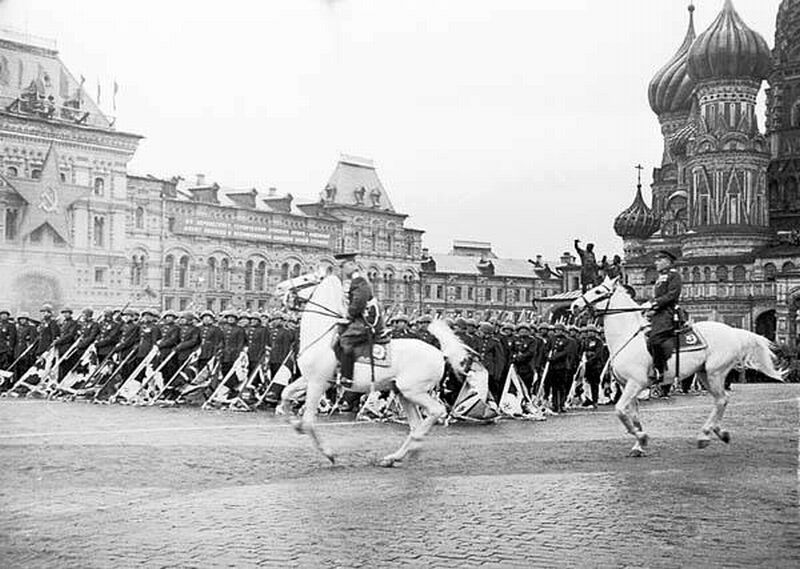 Marshall Zhukov was so popular in Soviet Union that Stalin perceived him as a threat and demoted Zhukov in 1947 to command Odessa military region (thousand of kilometers from Moscow). Zhukov has supported a revolt against Stalinist Communist party headed by Molotov and chief of secret police (NKVD) Lavrenty Beria. While he was instrumental in bringing Khrushchev to power he disagreed with massive de-mobilization of Army (11 million military men was cut to 4 million in Soviet Army by Khruschov). And so around 1960 Marshall Zhukov has become a forbidden figure in USSR. At the end of his life Zhukov was rehabilitated and published a famous book "Vospominaniia i Razmyshleniia" ("Memoirs and Thoughts"). Everything about Marshall Zhukov is popular in Belarus. He stayed in the memory of common folks in Belarus, Russia, Ukraine and many other former Soviet Union countries as a just and strong leader, a beloved true people's hero. Today portraits of Lenin, Stalin and Zhukov appear in the demonstrations of the retirees nostalgic of the USSR grandeur. Zhukov's image was somewhat hyped and some of the information that we discover about Zhukov today sounds more realistic and sometimes even disturbing. Take, for example this quote of Marshall Zhukov to General Eisenhower (1945): "If we come to a minefield, our infantry attacks exactly as it were not there." One must remember the human price of Zhukov's victories - millions of Soviet solders have died. Nevertheless one could only be horrified with what could happen if we lost to Nazi all the battles that were won under Marshall Zhukov command.

Zhukov's bio at Freedictionary.com


Zhukov At the Oder: The Decisive Battle for Berlin - Book by Tony Le Tissier


Marshall Zhukov. Pages of biography - video


Memoirs of Zhukov's daughter about father.


Marshall Zhukov military rewards
---
Other Relevant Pages of the Virtual Guide to Belarus



Belarusian Castles and Knighthood


Historic Belarusian Battles


Belarusian Statehood


History of Belarus
---

The Belarusian Cities guide is a part of the Virtual Guide to Belarus - a collaborative project of Belarusian scientists abroad. VG brings you the most extensive compilation of the information about Belarus on the Web.
Please send your comments to the authors of VG to Belarus
History | Statehood | Culture | Law and Politics | Cities | Nature and Geography | Travel | Global Resources | Dictionaries | Chernobyl | Genealogy | Industry | New