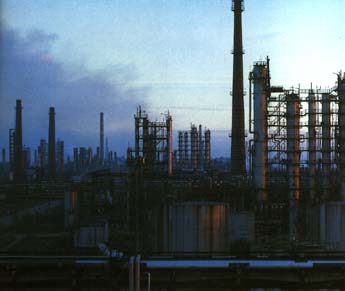 Belarus has perhaps the most modernized and powerful chemical industry among FSU states besides Russia. Our chemical industry specializes first of all in the processing of Russian oil products going through the pipelines to the west (primarily Germany); synthetic polymers, mineral fertilizers, pharmaceutics, household chemical products. This page is designed to be a portal of individual WebPages of related Belarusian chemical businesses. We will also provide some brief information about major trends and largest enterprises in the field.
---
Oil Processing Industry of Belarus
The two major oil processing plants are in Navapolacak (depicted left of the title) and in Rechitsa. These are relatively modern giants that are currently operating below their full capability because of the drop of oil supplies. As was pointed out in the summer '97 issue of "Neft' i Kapital" Russian oil industry journal, these two facilities are now a target of a strong political struggle. Russian oil mafia is trying to get its hands on them, but currently Belarus is not selling its enterprises to foreign investors. So their idea is that they have to pressure Eltsin into using his political arms and make Lukashenka to sell the plants to Russians. Since political and mafia structure in Russia by now are welded together (50% of 1998 candidates into Russian Government from Far East Region turned out to have some kind of criminal record in police archive!) it shouldn't take much time to see this political pressure happening. Still it seems that it is we, who should dictate the conditions, even though the state budget of Belarus is probably less than the pocket money of Lukoil's C.E.O. Russians claim that modernization of the plants is necessary. Fine! Let's allow German recipients of the products to do that. I'm sure they would be happy to come up with capital and participate in processing of their own goods. And when making choice between German and Russian investments one should remember that German businessmen do not blow up the cars with their competitors and do not sign their contracts with machine guns.
At this point we have only few links related to this topics.
---
Polymer Synthesis in Belarus
Several major belarusian enterprises are manufacturing polymers, synthetic fibers, polymer film etc.
---
Production of Mineral Fertilizers in Belarus
Belarus is the world biggiest supplier of potassium mineral fertilizers - the only mineral resource met in abundance in our land. Some plants rely on nitrogen extracted from air and other.
---
Belarusian Pharmaceutical Industry
It turns out that our pharmaceutical industry is not so bad. I've heard that some brits are buying our antibiotics in packs when in Belarus. Keep in mind that extremely strict former USSR governmental standards on medicine are still operating. Of course with the disintegration of the industrial network of FSU the production has fallen and there is a deficit of medicine now in Belarus. Here is the information about the course on belarusian pharmaceutical industry read in UK. See also this article from Financial Times - Pharmaceuticals and Healthcare in FSU
Still with the latest disarray in all economy there is severe lack of some major medicaments in Belarus
---
Household Chemical Products from Belarus
There are several plants involved in production of stuff like shampoo, detergents etc.