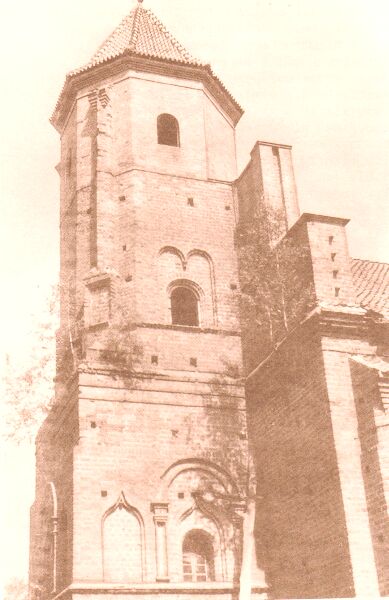 Hnezna Fortified Church
Hnezna is known in Lithuanian Metrics since XIV century. It was owned by Grand Duke and was maintained by different vassals of his - at firts Manivids. Later Grand Duke Kazimir has given palace Hnezna to Mikalaj Vashylovich in 1449. In XV century it has become private property of the famous nobility family of Shamiatovich. Shamiatovichs have founded in the aroud 1520 the construction of the fortified church - Archangel Michael Cathedral. It was built in characteristic Belarusian Gothic style (compare to Mir, Zaslaue). A tall bell tower could serve as a dungeon in times of war. It is octagonal in crossection at the top. But the first two floors are rectangular.
Later G. Hadkevich became an owner of Hnezna through his marriage to Hanna Shamiatovich. Hadkevich family were protestants and so the Catholic cathedral was abandoned for many years. It was later restored to service in mid XVII century during Counter-Reformation wave in Belarus. The cathedral was seriously damaged during the Northern War and later in Napoleon War of 1812.
After G. Hadkevich death Hnezna was owned by different families. Tarasovich family owned it from 1814 till 1939.

Photos:
References:
"Hrodna and Monuments of Panyamonnie" ("Hrodna i pomniki Paniamonnya") by L.V. Aliakseeu, Publishing House "Belaruskaia Navuka", Minsk 1996. ISBN 5-343-01410-0.
Beautiful color photos are taken from a great personal site - "Belarus Inside".
Back to Belarusian Castles and Knighthood page
---

This file is a part of the Virtual Guide to Belarus - a collaborative project of Belarusian scientists and professionals abroad. VG brings to you the most extensive compillation of the information about Belarus on the Web.
Please send your comments to the authors of VG to Belarus

History | Statehood | Culture | Law and Politics | Cities | Nature and Geography | Travel | Global Resources | Dictionaries | Chernobyl | Genealogy | Industry | New
©1994-03 VG to Belarus
Disclaimer