Belarusian Straw Folk Arts and Crafts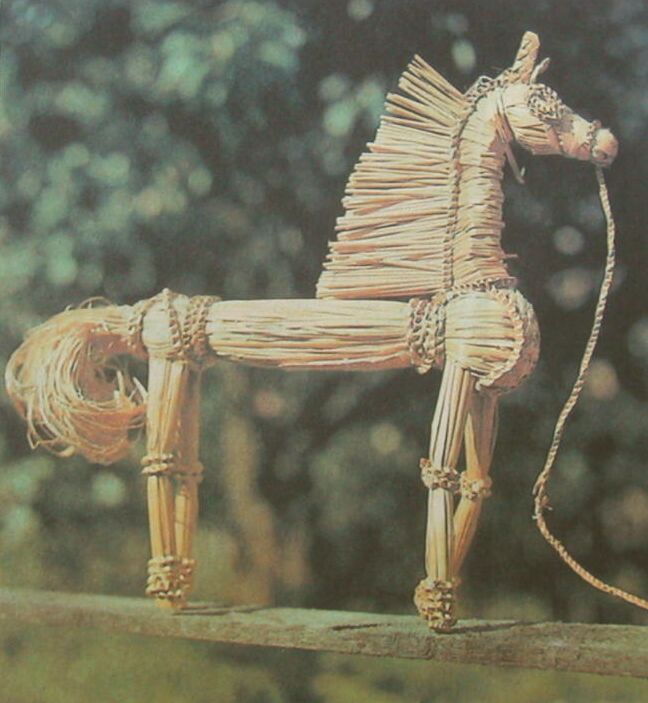 Straw weaving, incrustation, application are one of the most loved folk arts and crafts in Belarus. Below are some examples of decorative and utilitarian uses of straw arts and crafts in Belarus.

---
More straw horses. Not that Belarusian folk masters did only horses. They are just my favorites :) But here are some birds too :)

---

Long before mobiles were discovered by modern art Belarusian peasants were beautifying their houses with intricate moving straw mobiles commonly referred as "pavuk" ("spider"). I guess geometrical complexity of such "pavuk" mobile reminds geometry of spider web.

---

Beautiful and useful objects of everyday life were made out of straw and used for storage of goods and foods. All these boxes and baskets are made by straw weaving.


Even Belarusian children toys and dolls were often made out of straw:

And, of coarse, I can't forget traditional straw hats of Belarusian men - bryl'. It was not customary for Belarusian women to wear straw hats. They preferred to wear simple but elegant straw tiaras :)
---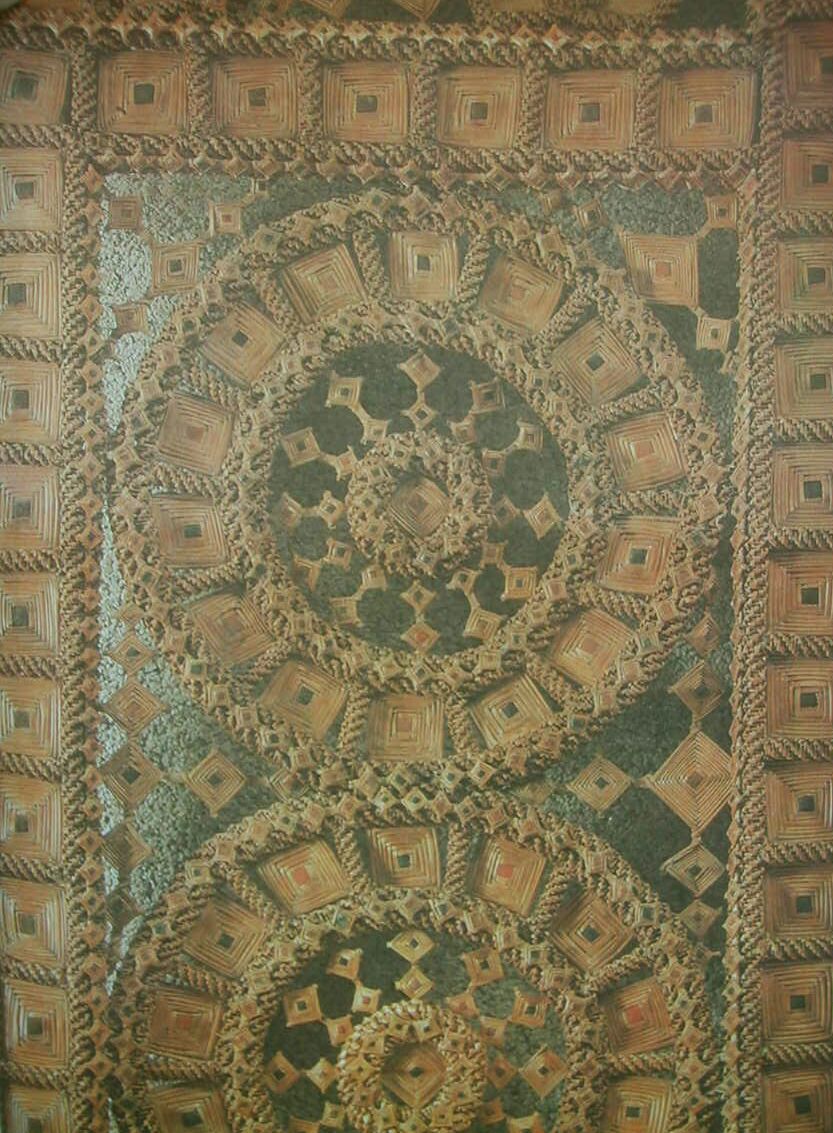 "Czarskiia Vrata" (early XIXc, Lemiashevichy, Pinsk region [2] ) - is the name of decorated gates separating an altar of a church from the rest of the room in the church. They essentially symbolized gates to heaven (yes, "heaven's door"). Only priests and their helpers are allowed to go beyond these gates (to symbolic heaven) in Eastern Orthodox church (could be Roman-Catholic too - I'm just not sure). These doors were clad in gold and silver in rich churches. In simple village churches folk masters beautified them not with reaches but with their talent, intricate work and taste.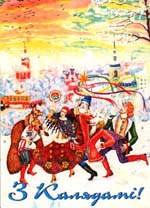 Christmas is the time of traditional Belarusian holiday - Kalyady - which has strict rules and lasts for 2 weeks. These tradition was clearly pre-Christian and was celebrated as pagan holiday of Winter Solstice for years before Belarusian ancestors became Christians. Part of the fun was carnival. Folks were wearing masks, dressed up in ship skins, depicting goats, bears, devils, wolves, storks and other popular folk tale personages. Having a goat and a Bethlehem star was pretty much obligatory obligatory in such village carnivals. Below are some straw Kalyady masks:

In Spring the Sun becomes the star of folk celebrations. Yur'ia is a Belarusian holiday of Spring greeting. During Yur'ia songs are sang calling Yur'ia Sun (below) to melt the snow and let the grass and the animals out of mother Earth womb.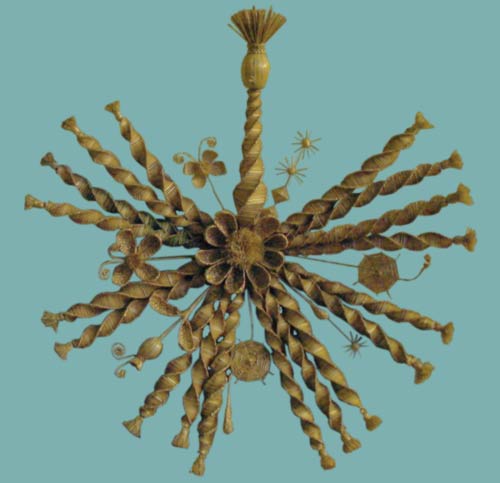 ---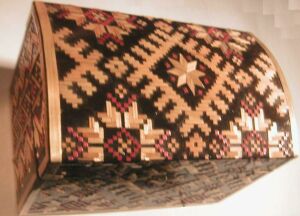 The other way popular way to use straw for decorating things is straw application. This is a straw appliqué box that I brought from Belarus to my place in California. Below is a "dyvanok" ("little carpet") made out of straw appliqué on satin (Village of Ruhava, Staradarozhski region [2] ). This "dyvanok" depicts an entire idyllic World imagined by Belarusian master.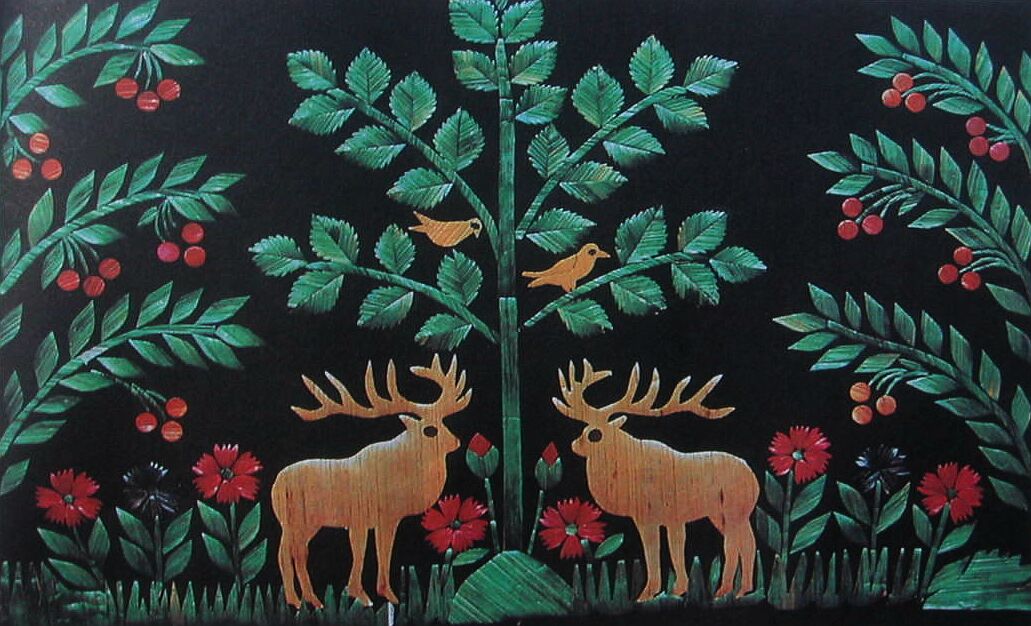 ---
Related Literature and Literature Used In This Page:
1. Kacar M.S. "Bielaruski arnamient. Tkactva. Vysyuki"("Belarusian Ornament, Textiles, Embroidery")
Publishing house "Bielaruskaja Encyklapiedyja" named after Piatrus' Brouka, Minsk, 1996 - 208 pages.
ISBN 985-11-0066-8
2. Sahuta Ja.M. "Narodnaje mastactva Belarusi" ("Folk Art of Belarus")
Publishing house "Bielaruskaja Encyklapiedyja" named after Piatrus' Brouka, Minsk, 1997- 287 pages.
ISBN 985-11-0075-7
3. "Etnahrafiia Belarusi" Encyclopedia ("Ethnography of Belarus")
Publishing house "Belarusian Soviet Encyklapedyja" named after Piatrus' Brouka, Minsk, 1989.
575 pages.
ISBN 5-85700-014-9
4. Vol'ha Labacheuskaia "Poviaz' Chasou - Belaruski Rushnik" ("Link of Times - Belarusian Rushnik")
Minsk, publishing house "Belarus" 2002, ISBN 985-01-0351-5
5. "Encyklapiedyja historyi Belarusi"(Encyclopedia of the history of Belarus") in 6 volumes, Volume 1 Publishing house "Belaruskaja Encyklapedyja" named after Piatrus' Brouka, Minsk, 1993 - 494 pages.
ISBN 5-85700-074-2
---
Links:
---

This file is a part of the Virtual Guide to Belarus - a collaborative project of Belarusian scientists and professionals abroad. VG brings you the most extensive compilation of the information about Belarus on the Web.
Please send your comments to the authors of VG to Belarus

History | Statehood | Culture | Law and Politics | Cities | Nature and Geography | Travel | Global Resources | Dictionaries | Chernobyl | Genealogy | Industry | New