Over the course of Olympic history Belarusian athletes have won 156 Olympic medals, including 80 gold ones. At the Barcelona Olympics (1992) the National team of Belarus won 17 gold, 4 silver and 6 bronze medals. The gymnast Vitaly Scherbo, who won 6 gold medals, became the national sports hero. The traditions of brilliant performances were laid by Mikhail Krivonosov, the first Belarusian won a silver Olympic medal in Melbourne (1952) in hammer throwing, and by women-gymnasts Larisa Petrik, Olga Korbut, Tamara Lazakovich, Nelli Kim. The names of Alexander Medved, the first ever triple Olympic champion in wrestling, Igor Zhelezovski, 6 times world champion in skating, Tatiana Samusenko and Elena Belova, masters of fencing and many others, - became legendary. Today the athletes known in the world live in Belarus. They are Alexander Kurlovich & Leonid Taranenko weight lifters.

Belarusian Athletes in Athens 2004 Olympiad
These are few NBC screen shots of Belarusian Olympic delegation at Athens 2004 Olympiad opening. The flag is carried by Alexander Medved - the first man who had won gold medal in three consecutive Olympiads - 1964, 1968, 1972.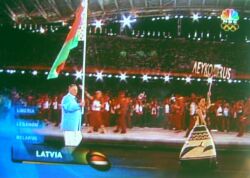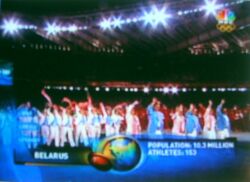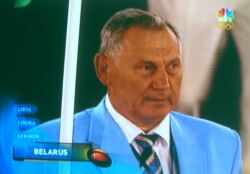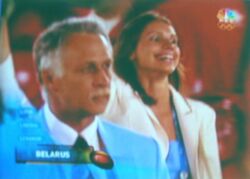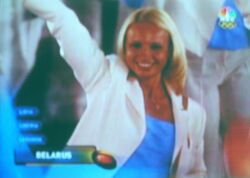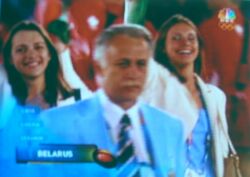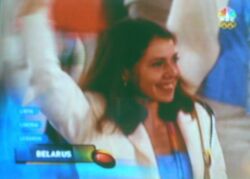 153 athletes arrived from Belarus to compete in Athens 2004 Olympiad. Read more about Belarusian team from Olympiad website. You can read short biographies of Belarusian athletes participating in Athens 2004 Olympiad here.
Belarusian Athletes in Sydney Olympics 2000
The 2000 Olympic Games in Sydney are over. Belarusian athletes have won 17 medals in Olympic games in Sydney


Belarusian team had won silver medal in Women's Rhythmic Gymnastics Group All-Around despite the fact that they had the same score as golden medallist - Russia. Russia had the higher score in the final presentation, but the same total score. Some of these Olympic Games rules are down right nasty.

Yulia Raskina had won a silver medal in Women's Rhythmic Gymnastics Individual All-Around
Irina Yatchenko won bronze in Women's Athletics Discus Throw


Yanina Korolchik won a golden medal in Women's Athletics Shot Put

Pavel Dovgal won bronze in Men's Modern Pentathlon Modern Pentathlon
Igor BASINSKY won the silver medal in Men's 50m Pistol and the bronze medal in Men's 10m Air Pistol
Dmitry Debelka took bronze in Men's Wrestling Greco-Roman 130kg
Natalya Sazanovich won bronze in Women's Athletics Heptathlon.


Ellina Zvereva took gold in Women's Athletics Discus Throw
Anatoly Lariukov had won bronze in Men's Judo Lightweight 73kg
Sergei Lavrenov won bronze in Men's Weight Lifting 69kg
Gennady Oleschuk won bronze in Men's Weight Lifting 62kg


Ekaterina Kartsen won a golden medal in Women's Single Scull Rowing.
Igor Astapkovich won bronze medal in Men's Athletics Hammer Throw
Lolita Evglevskaya - bronze in Women's 25m Pistol
Sergei Martynov - bronze in Men's 50m Rifle Prone
Belarus is #15 in medal count. It's not bad - we are ahead of countries like Canada, Sweden, Spain, Czech, Poland. We were # 18 in Atlanta Olympic games with 1 golden, 6 silver and 8 bronze medals - total of 15. But we have definitely under performed in many sports in Sydney, especially in gymnastics and weight lifting. Such, two-time World champion in Men's Gymnastics - Ivan Ivankov - was the forth in Sydney. In 1992 we were #1 in Barcelona as a United Team, for the last time after USSR breakdown with a total of 112 medals. Then again, counting medal rankings is not exactly in Olympic spirit.
Currently there are 482 sports schools for children and youth, including 120 Olympic Reserve specialized sports schools, 13 schools of higher sports training, 8 Olympic Reserve colleges.
Personal pages about outstanding sportsmen of Belarus
Belarusian sports links: