Middle of the XVIII century
Author unknown
Wooden board, egg tempera
137 x 101 x 2 cm
The icon is located in the Main Minsk Cathedral of St. Symon and St. Alena, also known as Red Cathedral.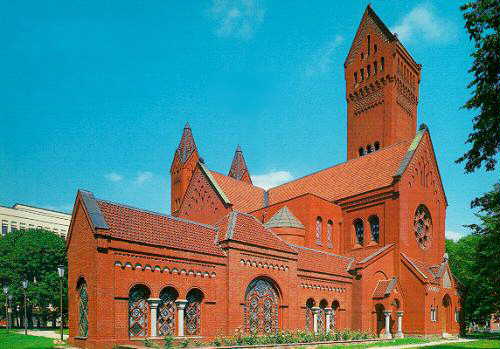 The Main Misk Cathedral was built in 1908-1910 by a powerful landlord Edward Vajnilovich and his wife Olimpia, in the memory of their deceised children - Symon and Alena. It was buil according to the plan of architect T. Pejdarski, with some inputs from U. Marconi and G. Guy. It is part of the Independence Square ensemble in the center of Belarusian capital - Minsk.
It was unwrapped byrestorer P.R. Zhurbej in 1982 in Minsk.
St. Nicolas - Mikola - is shown on a dark bacvkround, standing on a brown stand. He is wearing blue chiton and red cape. He waers bishops epitrahil on his head. He wears a symmetrical cross and small icon (panagia) on golden chjains on his neck. Mikola is blessing with his right hand and holds New Testament with his left.
According to the texts Mikola - The Creator Of Miracles has grew up in Lickean state near the mountain of Patara. He was a son of wealthy parents, priest and miracles creator. He was arch-bishop in Mira. Mikola was saving ships from drowning (1st scene); saved military commanders, Christopher and 3 men fro sure death (scenes 2 and 3); saved 3 poor girls from sin (scene 4); youth, Ulasi, the son of Agripa from saracins, new born - from drowning (scenes 3-8).
Mikola is considered the defender of the simple folks and to this day is the favorite Saint for prayers of many Belarusians.