1751
Author: Monogrammist M.V.
Wooden board, egg tempera
126.5 x 76 x 2 cm
The icon was described by the 14th expedition of the National Art Museum of Byelorussian SSR in 1970. At the time the icon was in the Bell Tower of the Intercession Church (built in 1869) of the town of Maladychyn, Minsk voblasc'.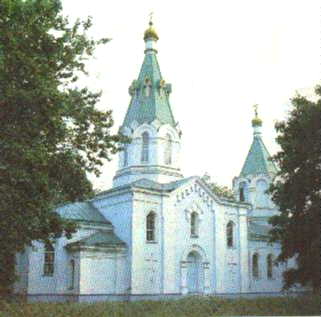 The Church was built in Pseudo-Russian style in 1867-1871. Elements of Moscow Architectural style were used in decoration of the church. The Intercession Church is currently functioning.
The icon was restored by a team of restorers from the State Russian Museum - I.V. Iarygina, S.I. Golubev, M.R. Malkin, A.T. Dzedniankov - in 1972-1975 in Leningrad (now St. Petersburg). Later it was unwrapped by restorers from the Institute "RosRstavratsiia" - A.I. Naumov and S.V. Filatov - in Moscow in 1979..
There are two levels in the icon symbolizing Heaven and Earth. God Mother is shown standing on a cloud on a pink-blue backround of the sky. She is wearing a crown. She is surrounded by apostles - Peter, Paul, prophets Moses, Illia, arcxh-angels Michael, Gabriel, fathers of the Church and the Saint sufferers.
At the bottom we see St. Raman the Sweet Singer, pointing to God Mother. He is surrounded by bishops, kings, nobility in knight armor, monks and Andrew the Feeble-Minded in blue clothing. The man in red clothing shown in the lower left corner has on Order of White Eagle on his chest. This order was establishe by King of Rzhech Pospolita Polsko-Litewska August II The Powerfull in 1705.