The Folk Music of Belarus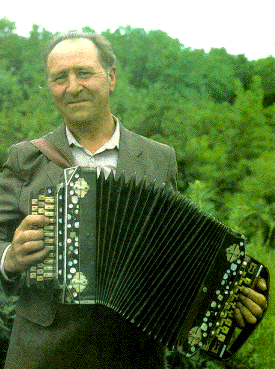 Dear friends!
I am focusing in this page on Belarusian folk music. Its specific virtue is absolute lack of aggressiveness. Whether it is joyful or thoughtful it flows in a peaceful and good willing way. The Belarusian word for this is "lahodny". It describes the patient and kind attitude of Belarusians to life and people. There are a lots of real ancient Slavic melodies and songs still left in Belarus, especially in Palesse.
I must say that during Soviet times folk art was strongly supported by government. Only in my native Hrodna region there were more than 800 clubs and so called "houses of culture", in which most of folk art (choirs, dancing ensembles, painting, ceramics etc.) were practiced. Folk art is not supported this much now. Hundreds of folk artists are vanishing in Belarus this very moment, giving way to Westernized mass-culture. Thus, hurry up to visit Belarus if you want to see and hear Belarusian folk art.

Here are some short tracks of Belarusian folk music which I have digitized in 1994 from some very thorough French CD - a study of Belarusian folklore. This are the first Belarusian sounds that have ever appeared on World Wide Web. A historic relic in a sense :) This is the real stuff, meaning, folklore researchers actually went out there in to the swamps of Palesse, found those lost villages and recorded old grandpas and babushkas in their log houses covered with straw roofs. I know because I've been there myself:

On the photo you see the pipe carver and musician V.S.Pratasevich from the town of Uzda in Minsk voblasc'.

Palesse is actually known for singing a-capella - singing without any instrumental accompaniment. People from Palesse - "Palyashuks" - both Belarusian and Ukrainian Palesse are skilled in harmony and sing in choirs in many voices. More over people enjoy improvising and harmonically split songs in multiple voices when singing together. I know this because I am half-Palyashuk myself :) And boy, my father can sing!

The two dance tunes below are already played by modern Belarusian folk dance bands. I have digitized them on my Mac from tape that I've received from Belarus. The quality is not great, but you can imagine those dancers swinging in pairs along the floor.

"Zorka-Venera" a song by M.Bagdanovich and unknown (to me at least) composer (300K). I believe this excerpt is from performance of our famous Belarusian band - Pesnyary. Pesnyary was a folk rock group that appeared in Belarus in 1969 and for years pretty much defined Belarusian national identity. So if we are talking folk music here - we can't really omit Pesnyary. Zorka-Venera song sounds to me like an anthem of Belarusian soul and I believe it was considered for National Anthem when we were looking for replacement of old times Soviet anthem.
In the past 14 years of Belarusian Independence an interesting trend has appeared in Belarus. People with highest conservatory education have started to study and perform original traditional Belarusian folk music. Academicians went folk music :) These new collectives study the music of Belarusian regions trying to find Belarusian folk standards, perform them in undistorted original ways. They restore or build from scratch ancient Belarusian musical instruments. They cherishingly study and perform things like pipe tunes. They work on creating traditional folk costumes of the region etc.
One of such new folk music groups is Guda. You can visit their own web page. I believe you can also buy their CD in here. Fortunately they placed few MP3ies on the Web, which we mirrored in our pages:

Another folk group with a lot of attention to detail and truthfulness of their performance is Litwins.

The biography of Ryhor Shyrma - a famous Belarusian musician, conductor and folk music researcher.
Here's the link to a modern folk rock group - Krywi These good folks participated in a concert in July 21 action protesting President Lukashenka staying in power past constitutional two 5-years terms. Next days they've got fired from all arrangements with state ministry of culture. And their music was even forbidden for FM Radio rotation in Belarus by a secret Lukashenka regime instruction.
Khoroshki - a superb Belarusian dance ensemble. They also have an excellent band. Seeing Khoroshki in Cerritos Cultural Center in California was an ultimate Belarusian Folk Dance and Music experience. And the girls...! I was driving home weeping :))) So if you'll have a chance - do it! Lewis Segal, a dance critic for the Los Angeles Times, wrote following about this performance: "The company exuded spirit and authority, projecting to the details of each piece with great vigor so that it was impossible to miss the tilts of the head, shakes of the shoulder or gestural specifics that gave many dances their character."
Links:


Belarusian Folk Music page from A Belarus Miscellany


Polesskie Zori
On-Line Radio from Belarus:


1st State Belarusian Channel

Radio Alpha (commercial station)
---

This file is a part of the Virtual Guide to Belarus - a collaborative project of Belarusian scientists and professionals abroad. VG brings you the most extensive compilation of the information about Belarus on the Web.
Please send your comments to the authors of VG to Belarus

History | Statehood | Culture | Law and Politics | Cities | Nature and Geography | Travel | Global Resources | Dictionaries | Chernobyl | Genealogy | Industry | New
©1994-04 VG to Belarus
Disclaimer