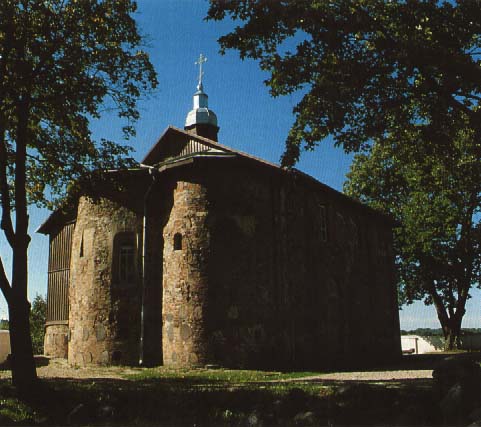 Welcome to Hrodna
- my hometown lying on the banks of Father Nioman.
Click on the outlined text if you want to hear few of my tales about these places.
---

This 3m thick wall is a city wall of ancient Hrodna. It's an Old Castle, XII c.

The Main Gates of Old Castle and Castle Bridge.



Kalozha - Boris and Gleb Eastern Orthodox church. XII century.

Brigitt women's monastery, XVII c.


Farny Kas'tyol - Jesuit church, XVII c.

Bernardinian Church, XVI-XVIII cc.


Unia Church, XVII-XVIII cc.


Two views on "New Castle" built as a summer residence of Polish kings.

New Castle Gates





A street leading to the Castle Mountain is called of course "Castle Street". In old times the court noblemen have built their houses here. And as you could see in the last picture the new rich are trying to fit in with their houses :)


Last century's Fire Department Tower and my friend - Vova Ivanovskii




Two XVII century buildings have barely survived soviet times. The first is a building of former Court Ballet School. The second is a city archive. Communists have almost blew it up expanding the Lenin's Square. But few activists have saved it. Now it is named after one of Hrodna Majors that have developed city in XVII c - a Tyzenhaus square.



The oldest building of Hrodna State University - the place where I work. It was build by our writer - Eliza Ozheshko - as a women's educational institution in last century.



Barelief on the University wall supposedly shows the road to knowledge

Our Public Library named after Karski is working more than century.


Typical streets of old town in Hrodna


City government

Former City government ;)
Now it belongs to Division of Academy of Sciences of Belarus on Resources Economy



Railway station. A little to the left is the entrance to our Zoo.

People are typically living in multi-apartment housing like this one.

Drama Theatre

Puppet Theatre. Long before that - Court Ballet Theatre
---
Go back to Belarusian Cities
---
You can write to us at this address.