Minsk History:
The Origins and Early History
There are many legends relating to the foundation of Minsk and the origin of its name. Situated on the watershed of the river-routes linking the Baltic to the Black sea, its trading history going back to prehistoric times some have thought that the city owes its name to the word miena or "barter". Others look at a hill-fort known as Haradysczy by Stroczyce, a "Skansen"-village, a few kilometers away on the west from the city on the banks of the river Menka, which flows to the river Pticz and on to join the Pripiat' and Dniapro. A heroic folk legend that a giant called Menesk or Mincz kept a mill on the banks of a river, and ground rock and stones to make flower for bread in order to feed the war-band he had assembled to protect his settlement, and safeguard its prosperity. This depended, no doubt, on the portage of goods between the headwaters of Pripiat, Dniapro, and Nioman. So Menesk -- later Mensk -- came into being. The reference to "stone-flour" can allude to kneading and baking of potters clay used in brick-making and ceramics industry, which from the earliest times flourished in the area. There was no lack of wood to fire the kilns.
Ancient Minsk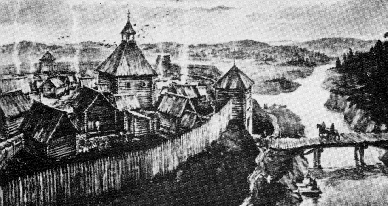 In prehistoric times the "domain of the bear" predominated over "the domain of the goose"(as Napoleon soldiers aptly dubbed the forest- and meadow-lands of the area) with vast and impenetrable primeval forests covering most of the country and serving as a Delphic "wooden wall" to its successive inhabitants against attacks from the East. Scattered Lithuanians and Jatvyhs hunted and gathered, until merged with the more advanced Slavonic tribes moving northwards from the Carpathians during the so-called Dark Ages. These settled the area forming the watershed of the rivers flowing to the Baltic and the Black Sea, where the early Belarusians founded prosperous townships of Polacak, Viciebsk, Smalensk, Minsk, and Harodnia. Of these Polacak, first mentioned in the chronicles for 862, was to become the most important.
During the era of Viking expansion along the East European waterways, many towns and principalities were ruled over by Scandinavian warlords; in the 9th century the lands of Polacak were raided by two Viking princes Askold and Dir, and by the 10th century a Prince Ravhalod(Norse: Ragnvald) reigned over the Belarusian principality of which early Minsk formed part. The Belarusian nobility to this day distinguishes between families of old Lithuanian and those of Scandinavian descent(Hedymoviczy and Rurikoviczy).