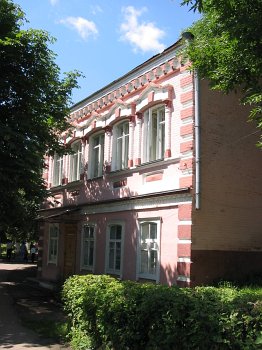 Loeu
Loev, Belarus
Loeu is a small town in Homel Voblasc' (Region). It is an administrative center of Loeu District. It has a small port on Dnieper river, where another river - Sozh is merging with Dnieper. It is located 92 km South of Homel'.
Loeu was built in 15th century. In 1505 it was severely destroyed by Tartars. At the end of 16th century it has become a small town - miastechka as they are called in Belarus, and it had a fortress built. At that time it was a distric center of Rzhech Pospolita Polska-Litewska (Commonwealth of the Kingdom of Poland and the Grand Duche of Lithuania). Loeu was severely damaged by Russians and Ukrainians during the Muscowy War of 1654-67. After this war it has become part of Russian Empire. The town was in private ownership of M.S. Yuchyckij since 1676. It has stayed as a property of his children until the second half of 19th century. Later it was own by other nobility clans - Lashchy family, then Narushevich family. In the beginning of the 19th century the Loeu Palace was build. At the end of 19th century the town had 250 households, 7 windmills and 2 water mills, 24 stores, sales offices, school, post office, 2 Orthodox Christian churches, 1 Catholic church. Loeu had a population of 4667 in 1897. In the beginning of 20th century a shipbuilding dock was built in Loeu. Loeu is an administrative center (district center) since 1926.

The towns plan is stretched along Dnieper river, and iz crossed by Vitach creek in the West. Loeu is planned in rectangular blocks with predominantly single story wooden houses with 2-5 story houses near the center. Some architecturally interesting buildings with elements of neo-classicism are located along on Lenin Street, Shavialeva Street and 1st of May Street. It has a park and recreation area on the tall bank of Dnieper. The industrial area is located at Loeu's Western and South-Western end.

My Encyclopedia does not says what is Loeu's current population. But it is probably around 10-20 thousands people. One other thing is that since Loeu is located close to Chernobyl. the radioactive contamination of the are has most
likely happened during 1986 Chernobyl Radioactive Disaster.
Links:
---
---

This file is a part of the Virtual Guide to Belarus - a collaborative project of Belarusian scientists abroad. VG brings you the most extensive compilation of the information about Belarus on the Web.
Please send your comments to the authors of VG to Belarus

History | Statehood | Culture | Law and Politics | Cities | Nature and Geography | Travel | Global Resources | Dictionaries | Chernobyl | Genealogy | Industry | New
©1994-04 VG to Belarus
Disclaimer