Leu Sapeha (Lev Sopega)
1557-1633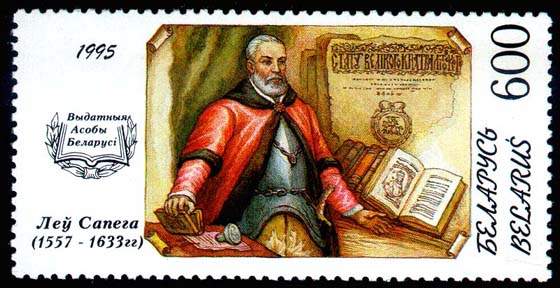 Leu Sapeha distinguished himself at 23 by talking to Batory in Latin since Batory was not fluent neither in Polish nor in Old Belarusian. A young man Sapega received a position of secretary of the GDL. At this time the Muscovy tsar Ivan the Terrible has started a war against the GDL. Young Sapega has formed at his own cost a hussar regiment and distinguished himself in the battles at Velikie Luki and during the Pskov siege. In 1548 Leu Sapega is sent as an ambassador to Moscow. Earlier his uncles Mikalaj Sapega (Vayavoda of Vitsebsk) and Andrej (vayavoda of Mensk). Leu Sapega haven't reached tsar Ivan the Terrible. The latter has died. Sapega has signed a 10 year peace treaty. By this treaty Muscovy kept Smalensk, but left Polacak, Vyalizh and Infland. 16 years later Sapega is sent again to Moscow by king Zhygimont. This times he signs a 20 year peace treaty with Boris Godunov.
Leu Sapega is one of the greatest Belarusian political figures, a renown by his wisdom statesman, lawyer and military commander. He stood at the head of the Grand Duchy of Lithuania at the times of G.D.L.'s highest cultural blossoming. He was a main editor and publisher of the last version of the Statut of the GDL - the ancient constitution of Belarusians that still challenges the current state of democracy in Belarus. At all times Leu Sapega was a powerful guardian of Belarusian national interests and a stronghold of our independence.
In 1633 a new king of Rzhech Pospolita Ladyslau IV came to Vil'na Leu Sapega as a Marshal of the Great Duchy of Lithuania was meeting him in front of the senators of GDL with a marshal's mace on a horse. He was 80 years old. He died two weeks later.
Links related to Leu Sapeha:

Leu Sapeha - our own expanded page about Leu Sapeha as a great statesman of Renaissance Belarus (The Grand Duchy of Lithuania)


Istorija.lt - Lithuanian historical site


Statutes of The Grand Duchy of Lithuania
---
Other Relevant Pages of the Virtual Guide to Belarus



Belarusian Castles and Knighthood


Historic Belarusian Battles


Belarusian Statehood


History of Belarus
---

The Belarusian Cities guide is a part of the Virtual Guide to Belarus - a collaborative project of Belarusian scientists abroad. VG brings you the most extensive compilation of the information about Belarus on the Web.
Please send your comments to the authors of VG to Belarus
History | Statehood | Culture | Law and Politics | Cities | Nature and Geography | Travel | Global Resources | Dictionaries | Chernobyl | Genealogy | Industry | New