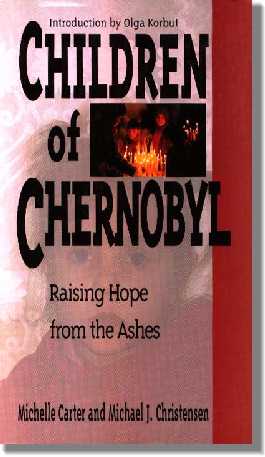 Children of Chernobyl
Raising Hope from the Ashes
Michelle Carter and Michael J. Christensen

Augsburg, Minneapolis
ISBN 0-8066-2677-1
---
Although years have passed since the nuclear plant at Chernobyl exploded, the scope of the disaster and its long-term effects are only coming to light.

Beneath the surface of the land, in the fields and forests, and even in the food supply itself, lie hot particles of plutonium and other radioactive poisons that will threaten the children of Chernobyl for the next 20,000 years.
---
"... and a great star fell from the heaven, blazing like a torch, and it fell on a third of the rivers and on the springs of water. The name of the star is Wormwood. A third of the waters became wormwood, and many died from the water, because it was made bitter."
---
---
This book is an inspiring, true story of compassion and East-West encounter. Through the eyes of authors you will:
- travel to the Belarusan capital of Minsk and meed Natasha Ptushko, a 14-year-old leukemia victim;
- encounter the customs and traditions of a 1000-year-old eastern European culture;
- watch how American volunteers from different cities pooled their efforts to deliver life-saving medicines;
- share the experiences of Larissa and other children of Chernobyl as they spend a radiation free vacation in the United States;
- see the changes in daily life that resulted from Glasnost, Perestroika, and the collapse of the Soviet Union;
- meet the political and religious leaders of one of the newly independent republics;
- and see how compassionate concern relieves human suffering and breaks down barriers of misunderstanding.
---
Michelle Carter
is the managing editor of the San Mateo Times in San Mateo, California, and a graduate of the University of Missouri School of Journalism. She is founder and chairman of a United Church of Christ Children of Chernobyl Project.

Michael J. Cristensen
is international coordinator of the Chernobyl Mental Health Project, sponsored by World Vision. An ordained Nazarene minister, he is a Ph.D. candidate at Drew University, specializing in pastoral care for communities in crisis. He is the author of City Streets, City People, The Samaritan's Imperative, and C.S. Lewis on Scripture.
---
To order the copy of the book, please fill out the Form and send it with a donation of $50(payable to Michelle Carter, tax and mailing included) to:

Children of Chernobyl Project, Congregational Church of Belmont, 751 Alameda de las Pulgas, Belmont, CA 94002

You can also contact Michelle Carter by phone: 415/593-4547
and e-mail:MICKICARTR@aol.com

---
Maintaining this page is Alies' Arciuhovich
Go back to Chernobyl page or The Virtual Guide to Belarus