AN INTERNATIONAL CONGRESS
CHERNOBYL YEAR 2000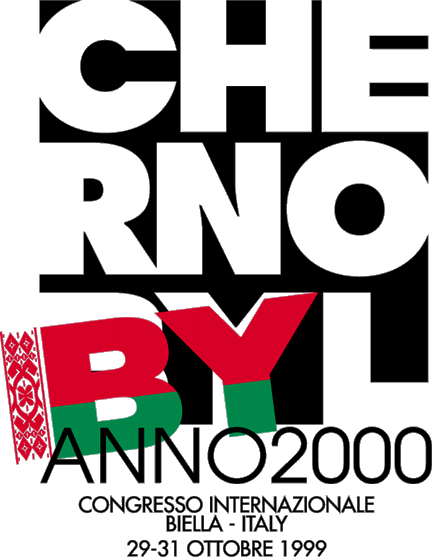 Dear Friends,

The Administration of the Province of Biella Italy together with the Charity Organisation Un Sorriso per Chernobyl would like to invite you to take part to the International Congress Chernobyl Year 2000 which will be held from 29th to 31st October at the Congress Center Citta' degli Studi of Biella - Italy.

The conferences will treat informative, scientific, administrative and organisation matters concerning the initiatives of reception and solidarity in favour of the children of Chernobyl.

In addition to the representatives of the most important associations of Italy, Spain, England, Germany, Switzerland, Ireland, Belgium, Canada and United States also scientists, researchers and international government authorities will take part. Among them:

Prof. Igor Rolevich (university professor, director of the Research centre of the social affairs dept. of the Belarus Republic)
Prof. Vassili Nesterenko (professor at the university of Minsk, director of the Belrad Institute)
Prof. Gregory Popovich (director of the public school in the village of Babici, Gomel region)
Tamara Lepeschka (mayor of Rovenskaya Sloboda, province of Rechiza, Gomel region)
Svetlana Rozkova (widow of a liquidator died further to the efforts made in order to put out the reactor no. 4)
Prof. Veceslav Astapenko (university professor, director of the state institute of nuclear medicine in Minsk)
Dr. Piero Balbo (lung diseases specialist at the hospital in Gattinara)
Dr. Stefano Meloni (nourishment science researcher at the university in Pavia)
Mr. Viktor Kuchinsky, MP (director of the dept. for social affairs in the Republic of Belarus)
Mr. Oleg Sluka, MP (Minister of Education of the Republic of Belarus)
Mr. Andrey Karpechky (Ambassador of the Belarus Republic in Italy)
Tatiana Kot (president of the Independent children's Aid Found in Minsk)
Anatoly Gusharov (general director of the national aircraft company Belavia in Belarus)
Dr. Guido Bollaffi (secretary of the Committee for the protection of foreign minors, Rome)


On this subject we kindly ask you to have a look to the detailed programme of the congress at the following web-page:

http://www.stilgrafica.it/chernobyl

where you will find additional information as well as the participation form which will entitle you to obtain the FREE PASS and to enjoy special hotel rates as well as all the free services provided.
This invitation is addressed to everybody who may share the concern about health of children exposed to radioactive contamination in Chernobyl area.

While looking forward to receiving your reply, we remain

Yours faithfully,
Davide Barazzotto
(President)

Phone Nr. +39 015 811811 - Fax +39 015 811888
e-mail address: smile@gvo.it
Tue, 21 Sep 1999.